Find a Good Read!
We are a participant in the Amazon Services LLC Associates Program, an affiliate advertising program designed to provide a means for us to earn fees by linking to Amazon.com and affiliated sites. We participate in other affiliate programs as well. For more details, please see our disclosure policy.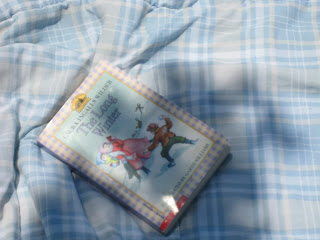 I'm so looking forward to our change of pace this summer. While learning never truly ends, I'm eager to put aside the math and spelling texts in exchange for more free reading, family field trips, and lazy days at the park.
Last week one of the kids brought a book along to our bday picnic. I laughed at the title, The Long Winter. Ha! So thankful, that summer is on the horizon.
Are you ready for summertime enrichment?
My kids have enjoyed several years of summer reading programs. Usually, the local library sponsors one. At about this time every year, we sign up and receive booklets to keep track of their summer reading. Even if there wasn't a prize at the end of the year, my boys would still love it. They are major bookworms, which is something that this mama loves. Freebies4Mom has put together a great list of summer reading programs for you to check out. And often, there's a "freebie 4 kids" involved.
The Happy Housewife regularly posts about great children's reading material. Every Thursday she hosts a roundup of good book links, so check it out if you're in need on inspiration.
Thursdays must be the day for reading. Simple Mom hosts her "Sound Mind, Sound Mom Book Club" that day. I've long since fallen off that wagon, but am hoping to climb back on sometime soon. Next week, they'll start reading, Last Child In The Woods: Saving Our Children From Nature-Deficit Disorder. Sounds like something I should take a gander at.
Lastly, each week I'll be listing several book ideas for all ages at Camp Wannalaffalotta. If you've got a recommendation that fits one of the themes, please let me know!
There should be no shortage of good reading inspiration this summer!
What's on your list to read this summer?