Finding Beauty
We are a participant in the Amazon Services LLC Associates Program, an affiliate advertising program designed to provide a means for us to earn fees by linking to Amazon.com and affiliated sites. We participate in other affiliate programs as well. For more details, please see our disclosure policy.
On September 1st, I received word that my junior high art and journalism teacher had lost her battle with breast cancer. What followed was a walk down memory lane that I least expected. I hadn't thought of my years at Arroyo Seco Junior High in quite some time.
Yet, memories of Ms. Berge came flooding back as if it were yesterday. About a year ago it had come to mind that she might be pleased to know that one of her students had gone on to be a published writer. I regret that I "never got around" to contacting her. What follows is my tribute to her.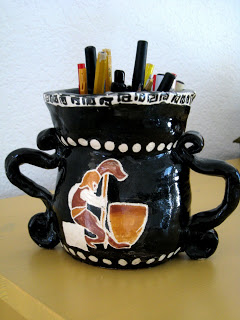 I only "threw" one pot. I still have it. So do my younger sisters. Greek vases that we made in 7th grade art class many moons ago still hold a place of honor in our homes. Ms. Berge taught us to make them.
I remember it started as a lump of clay. But once spun on the potter's wheel, it started to take shape. Pressure on a certain spot left an impression and effected the final product. And like that hand on a lump of clay, so was Ms. Berge's touch on my life.
1st period. 1st day at Arroyo Seco. She was my introduction to junior high. I would see her everyday for the next two years as I pursued journalism and participation on the school newspaper staff.
Many years have passed since those days. Today I'm a mother of six children with my eldest entering seventh grade this year. I am also a published writer, having had my work printed in over 90 publications. Prior to motherhood, I taught high school English, French, and Yearbook. As I think back on the guiding influences of my life and my writing, Ms Berge ranks near the top.
My teachers at Seco and Saugus gave me a fantastic academic foundation that helped me succeed in college, graduate school, and the working world. And I even liked some of them. Ms. Berge was one of those prized few to influence and encourage and be likeable at the same time.
During my years in journalism, she coached me in editorial writing, even accompanying me to several competitions throughout Southern California. I don't recall the awards I won, but I do remember her joy when I placed, her encouragement when I didn't, and her enthusiasm over the whole process. I learned to express my opinion with confidence, thanks to her guidance.
As my sister, an art and journalism student as well, says, "Ms. Berge was the perfect example for us of a feminine, independent woman." That she was. Professional, confident, and skilled, she taught me about writing, about teaching, about life. She didn't see her students as kids playing at art or newspaper. Rather, we were professionals-in-training. She demonstrated to us the right way to do things, expected hard work, and respected us as individuals.
I've read that potters often let the clay take shape on its own, giving it guidance, surely, but going with the nature of the clay, rather than forcing it. That was the way with Ms. Berge. She wasn't authoritative, but she was influential. She found the beauty in each student, each lump of clay. My mom's words this past week were, "She developed you so much." Though I am far from artistic, I never felt that way around her, one who certainly was. She saw my potential and she went with it.
I'm honored to have had her touch on my life.