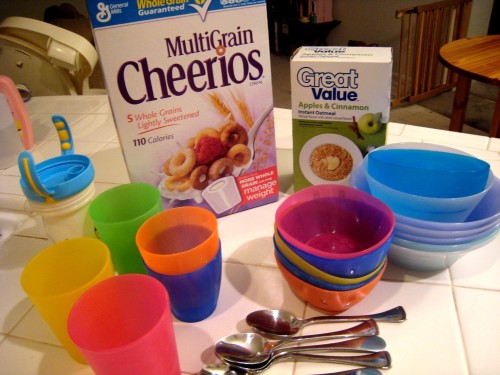 Early morning breakfasts can be a harried affair. And if one child — or three — keeps me awake during the night, the last thing I want to do is cook up a big breakfast. In fact, in my newfound resolve to make daily mealtimes a little easier, FishPapa and I have decided that boxed cereal and instant oatmeal are a good fit for this season of life. Our kids love it; they can serve themselves; and if I play my cards right, I can get several boxes for just a few bucks when I combine sales and coupons.
And when I'm super "withit" (which doesn't happen super often), I set out all we need for breakfast the night before. Bowls, spoons, cups. It really helps to fill the baby's sippy cup the night before and stash it in the frig.
Oh, yes, I'm taking "make-ahead" meals to a whole new level!
Though my kids would love it for me to serve them Sugar-Coated Candy Bombs each morning, that ain't happening. Thankfully, Cheerios is pretty much the family fave around here — and has been since I was a wee babe. The fact that it can help our family's heart health is an added plus.
I try not to buy cereal that is extra sweetened — even if it's free with the coupons — cause I know that I will pay for it in hyper kids and extra dental work. So I was particularly pleased when General Mills recently announced that they were committed to reducing the amount of sugar in children's cereals. Amen!
According to General Mills:

Ready-to-eat cereal eaters consume less fat, less cholesterol and more fiber than non-cereal eaters.
Cereals also deliver important vitamins, minerals and other essential nutrients, making cereal a top source of key nutrients in children's diets.
Ready-to-eat cereals, including presweetened cereals, account for only 5% of sugar in children's diets.
Ready-to-eat cereal is the No. 1 source of whole grains in a child's diet today.
More frequent cereal eaters tend to have healthier body weights and lower Body Mass Index measures.
Sounds good to me!
And when combined with coupons, I can regularly buy boxed cereal for as low as $.50 a box! Currently the deals aren't as sweet, but they're still good. In fact, Albertsons and Vons both have GM cereals on sale for $1.99 while Ralphs has the family size boxes for $2.99. Couple those with these coupons for Big G cereals and you could get several boxes of breakfast convenience for as low as $1.25 a box. You can also sign up with Cheerios to receive 4 $1 coupons in the coming weeks. And Multigrain Cheerios will send you 5 $1 coupons!
How do you handle the early morning breakfast rush?
Disclosure: This information and 4 free cereal coupons were provided by General Mills through MyBlogSpark. I was not compensated or required to share this information with you. My opinions are my own.