Finding Cookbooks for Less
As an Amazon Associate I earn from qualifying purchases. For more details, please see our disclosure policy.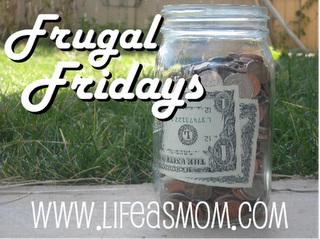 – Today's Frugal Friday is brought to you by Lynn from Lynn's Kitchen Adventures –
I love to collect cookbooks and I have quite a collection. Some of my cookbooks I have purchased new, some have been given to me as gifts, but many of my cookbooks are ones that I have purchased used. In fact, some of my most used cookbooks are ones that I purchased for only a dollar or two.
My favorite places to find used cookbooks are garage sales, thrift stores, library sales, and used book sales.
I have been the most successful at used book sales. There are several in my area, and I often find books for fifty cents to dollar and magazines for ten cents each. I recently went to a used book sale and came away with all of this for thirteen dollars!
See that large book in the middle? That is a very large old Gourmet magazine cookbook that I paid one dollar for. It was worth going to the sale for that book alone.
Paperbackswap is also a great way to find used books.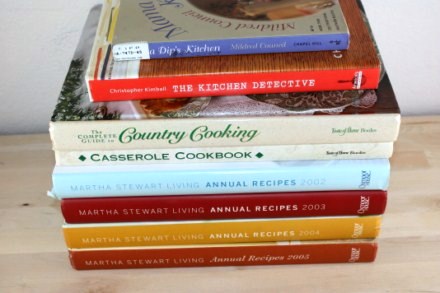 Be patient. These are just a few I have found on Paperbackswap. Yes, you can find even Martha Stewart books this way. Now, I did not find these right away. I put them on my wish list and was patient, but Martha Stewart cookbooks are worth the wait in my opinion.
Consider older books. One tip that I have for finding used cookbooks is not overlook the old ones. Some of my favorite cookbooks are over ten years old.
Don't think they have to be famous to be good. Good cookbooks also do not have to be authored by a popular chef or TV star. Many older cookbooks are authored by people you may not recognize, but that does not mean that it is a bad cookbook. Many of them are worth adding to your collection. In fact they might just become some of your favorite cookbooks to use.
What is your favorite why to find cookbooks inexpensively?
— Lynn loves to cook and try new recipes. She lives in Oklahoma on 43 acres with her husband and three children. She blogs at Lynn's Kitchen Adventures, sharing recipes, tips, and ideas to help you me blend a love of cooking with a busy life. She also blogs at Lynn's Recipe Adventures where she writes about the challenges of food allergies.
What do YOU do to save money?
Share your favorite money-saving ideas today. Leave a link to a post that shares some frugal wisdom. (Please no giveaways or deals posts. Teach us how to fish!)