FishBoys' Gift Guide for Boys Ages 5-12
We are a participant in the Amazon Services LLC Associates Program, an affiliate advertising program designed to provide a means for us to earn fees by linking to Amazon.com and affiliated sites. We participate in other affiliate programs as well. For more details, please see our disclosure policy.
Wondering what to buy the young boys in your life this Christmas? Stumped by the difference between a Lego and a Playmobil? Can't understand all the hooplah over a video game? You are not alone.
I am one of those rare beings to be a prissy girl only to become the mother of four boys when I grew up. My first four children, born in 7 years, are all boys. And so, I've had plenty of practice figuring out the intricacies of young manhood as well as what kind of gifts please young boys. The following is a gift guide based on what the FishBoys (ages 5-12) and their friends live for enjoy.
Great Books – I'm a firm believer in making sure my boys spend time reading. While they would play video games all day if I let them, those activities are limited, giving them plenty of time to read. And boy, can they go through books quickly. Some of their favorite series have included:
Nerf Guns
and Swords
– We go through weapons as quickly as socks around here. Nerf aren't indestructible, but they last for awhile. While the dart guns are well-received, I prefer guns that shoot balls this one
. Balls are easier to find and aren't as chokable for babies.
Character Tshirts – These are always a hit with my boys. Shirts with Pokemon, Perry the Platypus
, Phineas and Ferb , or Mario Brothers are their favorites. Find out what your boy likes and hunt down the matching shirt. Target and Walmart often carry the latest favorites.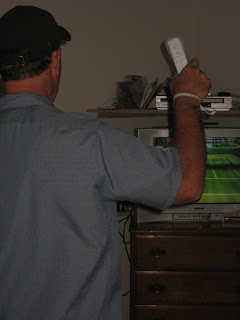 Wii and Nintendo DS Lite – These are the FishBoys' gaming systems of choice. Except for the Wii, they have purchased most of their games and game systems with their own earnings. What can I say, but that it is a "guy thing," this video game phenomena.
Lego
– It seems that every male under the age of 15 has been obsessed with these suckers for at least 50 years. I know this because my uncle had the very first set. He gave them to ME when I was a little girl and he regrets that with a passion. Can you imagine their worth today? Instead they languish at my mom's house, mixed in with their modern counterparts. Today Lego
sets range in price so you're bound to find something for every budget.
My boys love to build and collect Legos, but I personally refuse to spend any more money on them – we have soooooo many already. Instead the boys save up their own money for new sets. But, since I have budding Lego designers, I want to encourage building. This book
appears to be helpful in teaching the concepts behind Lego building. I'll let you know next month. (Hint, hint.) If your boys have a huge collection of bricks, check out this free design download from Lego.com. As with all things, there are upgrades that cost, so use caution before cutting your kids loose.
Playmobil
– These are my personal favorite as far as action figures go. They are so detailed for being so small. They make great birthday cake toppers as well as complements to home education. Don't you think Ancient Rome will be solidified in your guy's mind after playing with Gladiators and a Roman Colosseum? The grandparents and aunts and uncles have helped us build quite the collection over the years. We've got pirates, vikings, romans, and countryman. FishBoy5 and FishChick have been playing them a lot this past week. It helps that there are princesses as well.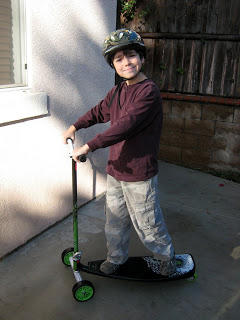 Scooter – Our first scooter was a hand-me-down. We were surprised at how fun it was — for all of us, myself included. So over time we've picked up more so that each kid has one. We recently received a Slither Scooter
to review which has been a fun addition to the collection. FishPapa says it wasn't the easiest thing to put together (and he's pretty savvy); there were some tricks not mentioned in the instructions that he had to do in order to get all the pieces to do their thing. Aside from that, he has really been enjoying it. Yes, my husband, not my "boys." It's so fun to watch him zipping around the cul-de-sac. It's brought out FishPapa's inner skater. The kids like it, too. It maneuvers a lot like a skateboard allowing for smoother turning and it works for all kinds of tricks. You can view a video of the Slither Scooter here which shows how you don't need to kick in order to propel yourself forward. With some practice, it really is fun. Don't forget the helmets!
Bicycles – It goes without saying that a boy without a bike is like a clock without hands. We've tried to do the hand-me-down thing within our own family. But, so far, the bike doesn't last through the fourth kid. So, FishBoy5 recently received a replacement. I'm trying to convince FishChick that she will be fine with a blue and red bike and that she really doesn't need those pink and purple tassels. Heaven help me! We have found that the simple, bargain bikes from Walmart work fine — provided that you don't expect it to survive four boys. Just make sure you purchase well-fitting helmets and insist that they wear them or they don't ride.
My kids aren't the only boys in the world. What do YOUR boys love? What gifts are a success at your house?
Disclosure: I received a Slither Kick Scooter from Pulse Scooters to review and share our family's opinions with my readers. I received no compensation to tell you about it. The opinions here are mine and FishPapa's.