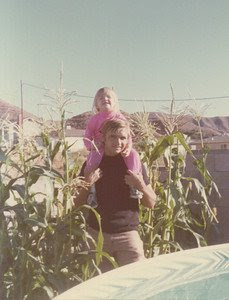 I got a good chuckle over some of the questions you all posed in my "Everything You Ever Wanted to Know about FishMama" sweepstakes. There were lots of questions about homeschooling, so as soon as I figure out how to organize those questions, I'll be tackling those.
This week, though, I thought I would answer the easy ones.
Where did you live when you were in the Midwest?
We had/have a very cute house on a cul de sac in Olathe, Kansas, a suburb of Kansas City. I miss that house. I brought home three babies to that house. I know how to clean that house. But, no use in paying for an empty house, so we're under contract to sell it.
Where did the whole "fish" theme come from? Don't get me wrong, I think it's great, but I'm just curious.
Believe it or not, this is a pretty common question. In fact, the logo for our business is a fish and inevitably someone would ask this question. In case you hadn't read my copyright notice, my last name is Fisher. When my husband was a young man, everyone called him, "Fish" for short. Somewhere along the line I became "FishMama," and our first baby was "FishBaby." Ultimately, the boys were the "FishBoys" and the girls, "FishChicks." We're pretty original, don't you think?
What kind of car do you drive?
I am the proud owner of a 1996 Dodge Caravan. We just hit 150,000 miles and have replaced the water pump, transmission, and a bunch of other things in the 6 years we've owned it. We're hoping to upgrade to a used Suburban this year if we can scrape together the cash. And I dream of someday driving a four door sedan again. Someday.
Are you on Facebook?
Yes, my sister has even posted a photo or two of me with big hair. But I am the ultimate Facebook flake. I really haven't had the time to explore all that is on there or how it all works. Plus, I don't want to run into any weirdos from my past. So, if you're a weirdo, from my past or otherwise, please don't contact me. Thank you.
How did you meet your husband?
In case you missed it, you can read that story here.
Do you like traditional Christian music (hymns) or contemporary Christian music best? What is your favorite song?
I pretty much like anything – if it's well done. I don't go for the cheesy sounds. FishPapa is a musician so he is the gatekeeper of good music. One of my favorite albums is Sara Groves' Tell Me What You Know. I love "Song for My Sons." Makes me cry if I'm in the right (or wrong) mood.
Did your dad really plant sweet corn in the backyard less than a foot from the pool?
Yes, he really did. (Does that qualify him as "one of those weirdos from my past?")