The ball drops tonight. Amazing that the clock keeps ticking whether or not I'm ready for it to do so. Time waits for no mom apparently.
Thank you so much for coming along with me on this journey of "life as MOM". I consider this a little space on the web a joint effort. Thanks for making it so much fun.
Be sure to enter all the 12 Days of Christmas Giveaways. I've had such fun choosing and shopping for prizes. Can't wait to share them with you!
In the meantime, here's a walk down memory lane and the top 10 posts of the last year. I see a theme, don't you?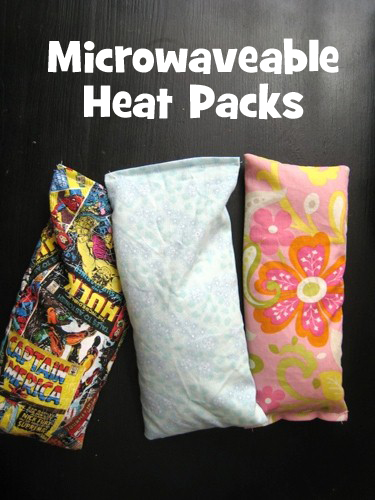 1. DIY on a Dime: Microwaveable Heat Packs – These hot little babies are super popular at our house. Last year I made each of the kids new ones, but it seems like we're always missing some. I think there's one particular child who stockpiles them in his bed.
These microwaveable heat packs are so nice for warming cold sheets at night or cuddlying with when you need a little warmth. We use them to comfort upset tummies. And in summertime, we store them in the freezer for instant refreshment.
If you can sew a straight line, you can totally make a set  for your house. If you can't, call Mom or Gramma and make them do it.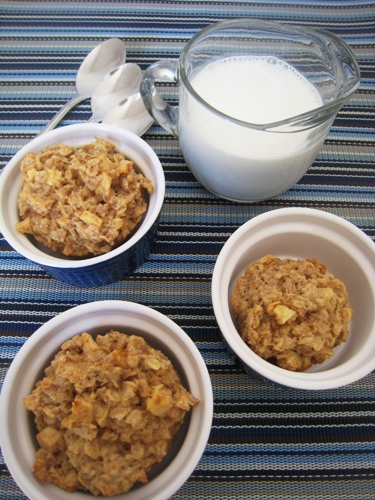 2. Breakfasts on the Go: FREE Downloadable Freezer Cooking Plan –  I might not need to get kids ready for the bus in the morning, but we have our fair share of busy mornings. Having a stash of easy breakfasts in your freezer can sure take the load off!
This freezer cooking includes some of our favorite morning meals: Cinnamon Apple Oat Cakes, Eggs Florentine Casserole, Herbed Pork Sausage Patties, Breakfast Sliders, Spiced Whole Grain Waffles, Pumpkin Spice Scones, Honey Multi-Grain Rolls, Coconut Mango Banana Smoothie. It helps if you have a copy of my freezer cookbook.
(Currently, there are a few available on Amazon for less than $7. Snatch them up before they run out of remainder copies.)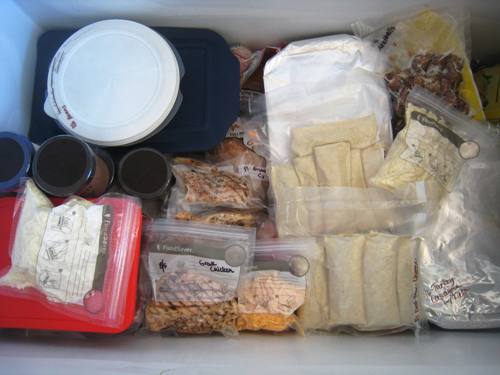 3. Fill the Freezer to Save Money (Frugal Friday) – As you know, my freezer is one of my best friends. This post from August shows the typical process I got through to prep meals for the freezer, how it saves us money, and a boatload of recipes that all the FishKids love.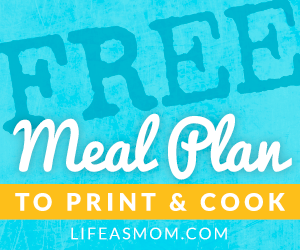 4. Weekly Meal Plan to Print and Cook #1 – All the way back in January, I started posting weekly meal plans to print and cook. These are quick and easy menus with grocery lists to help you bridge the gap between elaborate home-cooked meals and a trip through the take-out line.
There are now over 30 meal plans to choose from as well as a few specialty plans for school lunches, holiday meals, and other special events. Check them out here.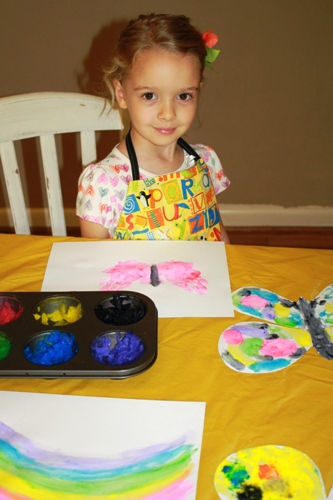 5. Homemade Finger Paint – That lovely lady is my niece. God not only gave me two daughters but also two nieces close in age. Love watching the four girls together. Can't wait until they move back to California.
My sister, Janel, is not only one of my best friends, but also my assistant here on Ye Olde Blog. In this post she shared a recipe for homemade fingerpaint that your kids are sure to love. It's non-toxic and easily mixed up with pantry staples.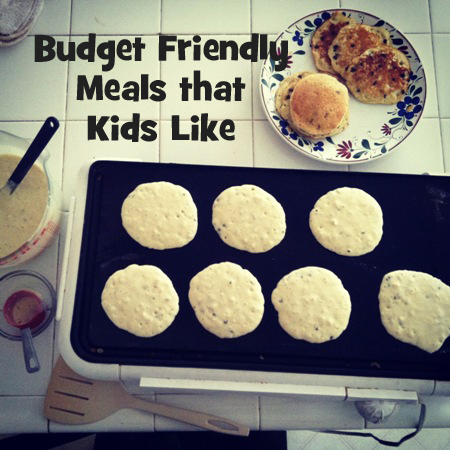 6. Budget Friendly Meals that Kids Like (Eat Well, Spend Less) – How to feed your family well on a budget is a challenge. Finding economical meals that your kids enjoy is minor miracle. This post is evidence that it is totally possible — without too much pleading or threatening.
The post includes tips from the Eat Well, Spend Less bloggers who also happen to be fantastic moms.

7. 10 Great Book Series for Kids – We love to read at our house. I sound like a broken record, don't I? We regularly have 100+ checkouts from the library and a walk in closet full of books we own upstairs. Here are ten of our favorite series to work through, either as read alouds or independent reads.
My youngest reader, FishChick7 is now working her way through the Magic Treehouse series. These are small enough not to intimidate, but are complete chapter books for budding readers. Book recs span the ages. We've got readers aged 7 to 41 around here.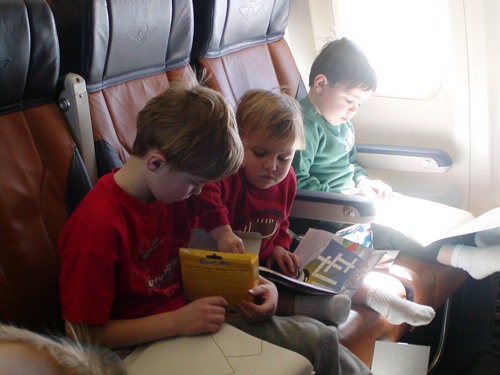 8. Go Ahead, Have a Third Kid – It's my belief that having a third child is not more difficult than having two. In fact, my experience was quite the opposite. This post explains my rationale and understanding of expanding one's family, but also includes great conversation and input from readers in the comments section.
If you're on the fence about having number three, this discussion may prove helpful.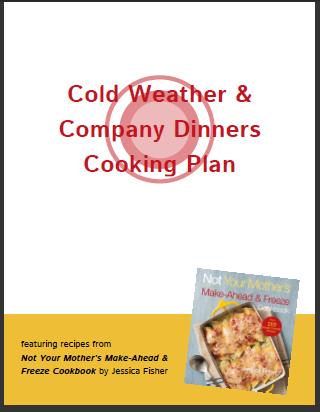 9. Cold Weather & Company Dinners Free Downloadable Freezer Cooking Plan – Cold weather is upon us! Time to dust off this freezer cooking plan. Don't you think you'd have folks over more often if it were easier to get the meal on the table? These recipes offer all kinds of cozy goodness to help you do just that.
This cooking plan is ambitious but delicious, including: Stuffed Chicken Parmesan, Chicken and Wild Rice Bake, Best-Ever Chicken Pot Pie, Baked Manicotti with Sun-Dried Tomatoes and Thyme, White Bean Soup with Vegetables, Not Your Mother's Chicken Noodle Soup, Herbed Meatballs, Slow Cooker Red Sauce, Oatmeal Thumbprint Cookies with Cassis Jam, Mixed Berry Pie with Cinnamon and Lemon.
Again, it behooves you to have a copy of Not Your Mother's Make-Ahead and Freeze Cookbook.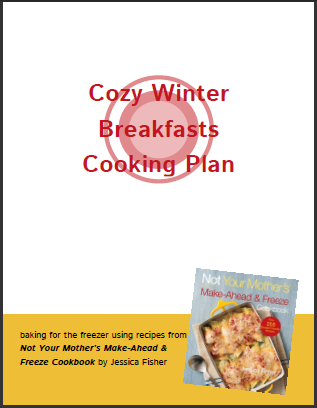 10. Cozy Winter Breakfast Free Downloadable Freezer Cooking Plan – I don't know about you, but I'm ready for some easy breakfasts. This round-up of recipes is perfect for cold weather times.
Recipes include: Spiced Pumpkin Flax Bread, Wholesome Energy Bars, Better Instant Oatmeal Packets, Bulk-Batch Pancake Mix, Lemon-and-Honey Flax Waffles, Cranberry-Orange Granola, Breakfast Cookies, and Raspberry Baked Oatmeal. With some modifications I will be baking this plan up during the Pantry Challenge.
So, that's my list, folks. Obviously, a few crafts, good books, and lots of good, cheap, make-ahead eats were the name of the game. You can expect more of the same in 2014. Thanks for making this job such a joy!
What was your favorite post of the year?