We are die-hard grill fans. When we lived in Kansas City, we "cooked out" as often as possible. Even in sub-zero weather.
Well, at least once.
Meat cooked on the grill just tastes so much better than other preparations. Tri-tip, Chicken, Steaks. You name it, we love it.
However, each time we've moved (every five years or so), we've left behind our barbeque. And at each new place, we say that we will someday get a really nice grill. But, then, we don't.
This last move/BBQ transition started out no different. We left behind the junky hand-me-down grill someone had given us, keeping our fingers crossed that we could swing buying a replacement once we got to California – Land of Eternal Cook Outs.
Shortly after we got here, FishPapa started scoping out the Craigslist ads for a new grill. I was a little skeptical that he'd find something in our price range. I was convinced that we'd end up getting a junky charcoal grill on clearance at Walmart.
I learned that I should trust my husband's instincts.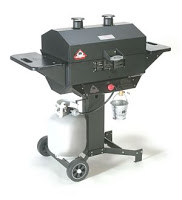 He found this. Retail price, $549.00 Definitely out of our price range. However, the family who sold it to us didn't need it. They had received it as a gift and had an even better grill already. So, they sold it to us — for $100! Wow!
Craigslist, FishPapa's new grill, FishPapa the Grill Meister – they all work for me!
For other great ideas that work visit Rocks in My Dryer every Wednesday.