Grocery Geek Presents: Fitting Organic Produce Into the Budget
We are a participant in the Amazon Services LLC Associates Program, an affiliate advertising program designed to provide a means for us to earn fees by linking to Amazon.com and affiliated sites. We participate in other affiliate programs as well. For more details, please see our disclosure policy.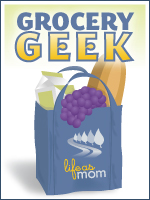 As is normal for me in the fall, my focus turns from getting the best deals to saving the most time. Both are limited resources; both have "costs."
Looking toward upping the nutrition in the things I buy, I am finding that I'm using a lot fewer coupons than in months and years previous. I know that I can find great coupon deals on healthier foods, but the time investment is a little sketchy. I'm not guaranteed a great return on my investment. Plus, it's sometimes simpler to just buy the bulk box of something at Costco or Trader Joe's or pick up straight ingredients and make my own.
That said, grocery shopping has been all over the map this past couple weeks. A stop at Walmart here, a run into TJ's there. The one thing that has been constant has been our weekly produce box from Abundant Harvest Organics. You can read my review of our first week's box here.
Crunching fruit
Our box from week two was amazing! I've never eaten plums that were so delicious. My kids didn't know what they were since the store plums I've purchased have been awful by comparison. These were so crisp and the perfect blend of sweet and tart.
Week three seemed a little smaller in size, but I think it was just because those amazing plums were gone.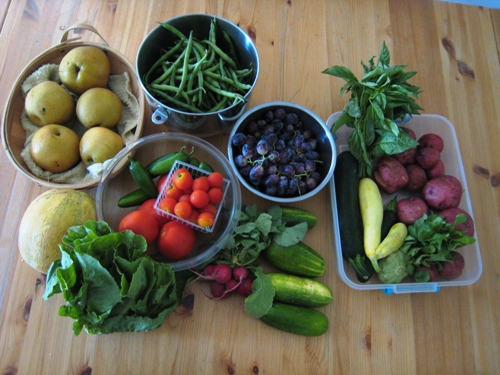 It's been fun to get a box full of goodies and see how creative I can be with what we get. It's been easier than last year's CSA experience in part because the box includes such "normal" foods. I'm not feeling stretched to use the items in the box because, for the most part, they are things I would buy anyway.
This week's box included: basil, lettuce, arugula, radishes, cucumbers, three kinds of summer squash, two kinds of tomatoes, melon, green beans, grapes, red potatoes, cucumbers, and jalapenos.
I've also purchased an extra ten pounds of grapes each week which has been a wonderful way to keep us supplied with fruit for snacking. They're so fresh, you can hear them crunch!
Crunching numbers
Each picture's contents cost $38.80, for all organic produce, fresh from the farm. I think that this is comparable to the organic sale prices that I see in my local stores — and the quality (of most things) has been better than what I would buy in the produce section.
My grocery expenses have averaged $750/month this year to feed a family of 8. Last year I averaged $624/month. This number kind of surprised me. The USDA projects a 3.5% to 4.5% increase in groceries. So obviously, this is a bigger increase than that. My spending is less than what I spent in our more extravagant days and definitely below the national average, but still seems like a marked increase.
And yes, I'm probably comparing myself to families who get by on $50 or $60/week. Honestly? It's just not realistic for our family. It never was. Even in my cheapest, most driven couponing days, I allowed myself $100/wk to feed my family. My kids are growing, I have four BOYS, I have limited time, and I'm trying to buy better quality food. Something's gotta give.
All food budgets are not created equal. Or as my friend Amy puts it, what you spend is irrelevant.
If I stick to a $750 budget, my produce costs will take up $155.20, leaving me a little under $600 to spend on dairy, meat, and canned or non-perishable items. As I think long term about this and how it fits in our budget, I'm thinking this is doable.
Overall, I am just ecstatic to have found great tasting, fresh produce at prices we can afford.