Five Favorite Things for Fashion
As an Amazon Associate I earn from qualifying purchases. For more details, please see our disclosure policy.
Are you feeling like you need to fight the frump? I can't tell you how much fun it's been since I started doing it. I feel (and look) like a new woman! Here are some of my favorite things for fashion.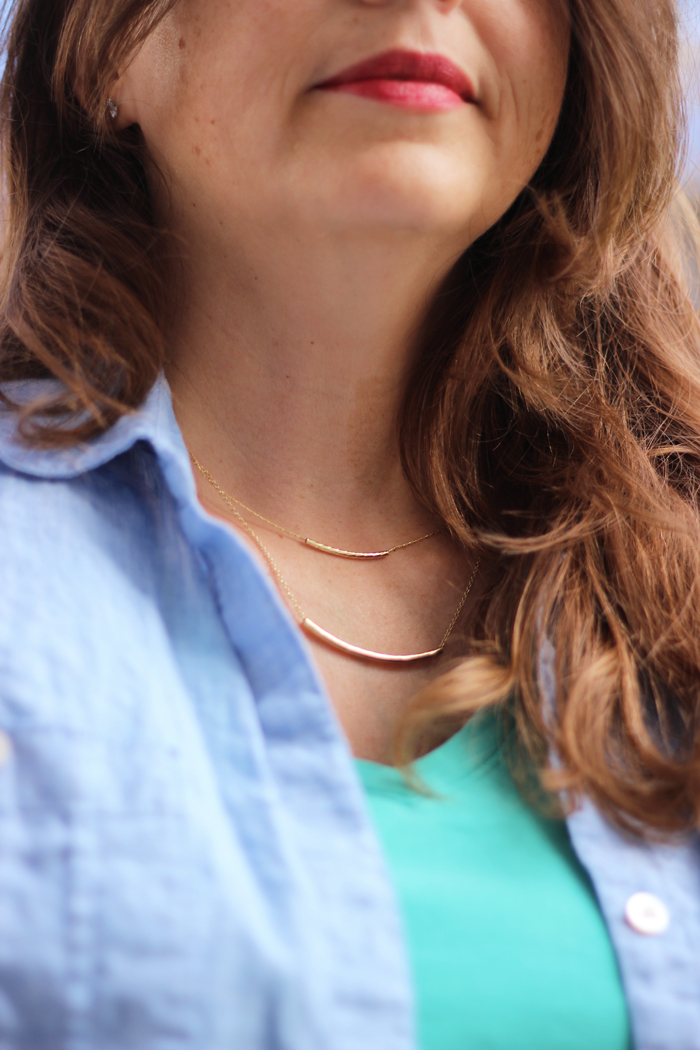 It's not been six months since I got into my little fashion hobby. I never gave style or clothing a ton of thought in my teen years. I was just too much of a dweeb. I was clueless.
Then I turned 44. And it seems like 44 was a magic number for me. I quit a lot of old bad habits, started taking charge of certain circumstances, and began my fight against the frump. It's been revelatory!
And a ton of fun.
I never knew that clothes and shoes and nail polish could be such a blast. I guess you could say I'm a teen girl all over again! Without the good skin and figure. Ha!
But seriously, I think that for years I fell into a trap of making excuses — you know the ones — and not taking care of me. The thing is that now that I'm resting each week and paying attention to my physical appearance, I'm a much happier mama! I wonder what we'd all be like around here if I had started this practice sooner?!
Not going to dwell on the past, but I am going to enjoy today and tomorrow. That's fo' sheezy. 😉
As I mentioned last week, I'm starting a new series here, a blog version of my kiddos' favorite bedtime game: Five Favorite Things. If you haven't guessed already, today's the fashion edition!
Five Favorite Things for Fashion
1. This SAHM Casual Wardrobe Basics Builder
This is the newest capsule wardrobe from Get Your Pretty On, and I am smitten! If you liked the must-have wardrobe capsule that Alison created for Life as Mom readers for winter, then you will love this all-season starter capsule!
If you've wondered what the style challenges are like, this basics builder is a great way to test it out. There isn't a private Facebook group with this as there is with the challenges, but otherwise it's very much similar.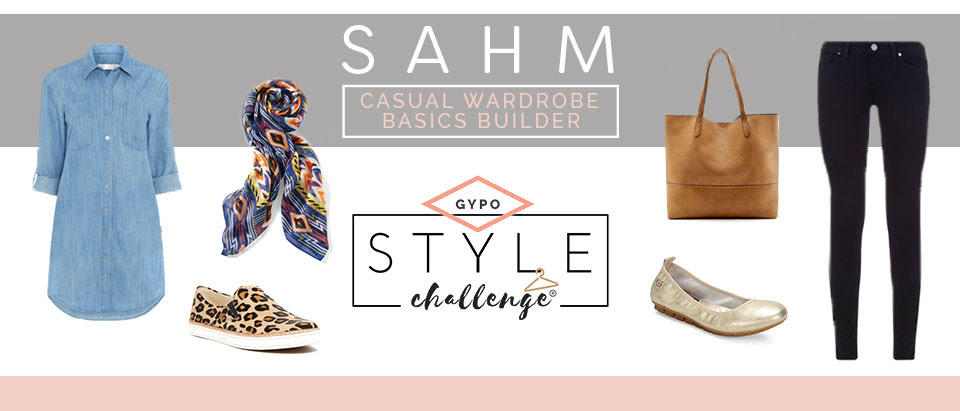 Not only has Alison curated 20 outfits that perfectly suit "life as mom", but she's also included tips for adapting what I call "meal plans for clothes" for all seasons.
You already know that I am hooked on her style challenges. If you're not in a place to invest in the Style Challenge Annual Membership, then this basics builder is a great starting point!
I was able to pull most of these pieces from my closet, only purchasing a small handful of items on clearance from Kohls last week. I ended up returning the dress and the shoes, so I'm still holding out for the perfect chambray dress and pair of gold ballet flats.
Seriously, if you're feeling like you need a boost in the wardrobe department, check out this capsule. It's 52-different kinds of awesome.
2. Online shopping
I love online shopping something fierce. I don't want to say that I'm so busy that I don't have time to shop, but my life is so full, I really don't have time to run around to fifteen stores looking for the right thing. And when it comes to clothing, I do want "the right thing". I don't want to keep clothes that I don't absolutely love — which means that it has to be just right.
Online shopping helps me find the right thing without spending an inordinate amount of time.
Now, it does sometimes require returns. Both pairs of shoes I ordered went back because they just weren't comfortable, as did the dress. But, I typically only buy things that include free returns.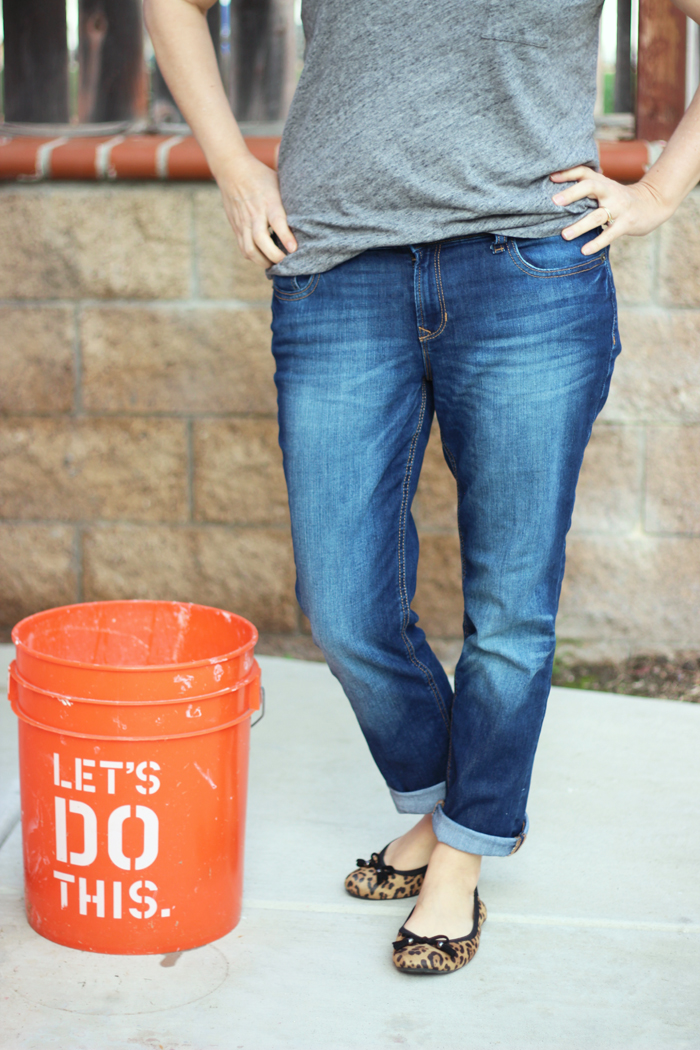 3. Boyfriend jeans
While it's a close squeeze, I can still fit this old body into skinny jeans. Cute as they are, though, I was thrilled to get my first pair of boyfriend jeans a few months ago. "Boyfriend jeans" are a looser cut that are still considered "cool".
Whew. I can breathe again! Boyfriend jeans signal the feeling that I'm sure women felt when corsets were finally laid aside. I'll still hang onto my skinny jeans, but I'm super thankful for a comfy, yet stylish alternative.
I bought this pair on sale at Old Navy late last summer and found a white pair on clearance at the end of the summer, so I'm set for the spring and summer in cooler, comfy jeans.
4. Leopard print
Until last fall, my wardrobe was pretty plain: lots of black plus jeans and solid color or graphic tshirts. Oh my with the graphic tshirts! A little too much attention to this DD chest. Ahem.
Doing the style challenges has busted me out of my comfort zone. Pun intended.
I've tried styles I NEVER THOUGHT I would try. Peep toe booties? A fur vest? Who am I and where did the old Jessica go?
One of the items that has surprised me the most has been my newfound love for leopard print. My girls were already big fans. My sister Jamie said, "It's about time!" Better late than never, I guess?
I didn't spend a lot of money to try the trend. These ballet flats I bought from Payless were less than $7 out of pocket (after a gift card); I bought a belt used from ThredUp for $6; Jamie gave me a scarf that she found for two bucks at the beauty supply store.
I surprised myself by loving something that seemed a little too wild for me. Who knew that leopard print is considered a neutral?! (In case you didn't know, it is these days!)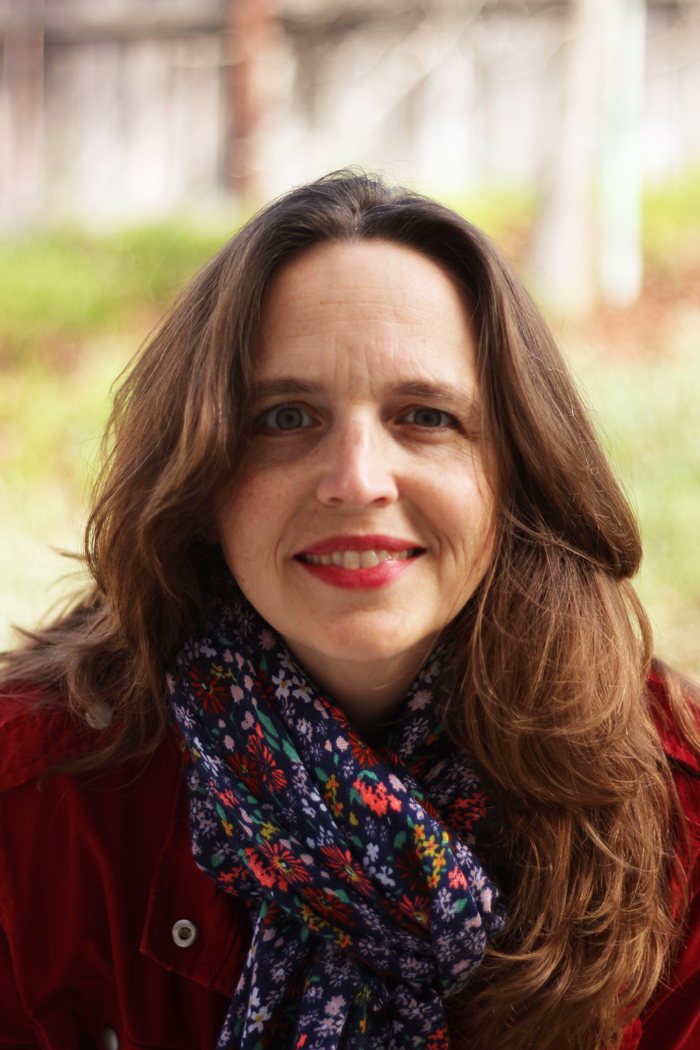 5. Spring colors
Since I started fighting the frump, I've been trying to dress for the seasons. While that doesn't mean much here in a temperate climate like San Diego, I've adapted the seasonal clothing thing to match colors and textures to the season. I did not, in fact, get to bust out my snow boots this winter — even for my trip to Minnesota.
In September, October, and November, I focused on jewel tones and light layers. December through today has had me in sweaters and cords and colors like black, gray, and burgundy.
But, I'm ready for spring now!
That's one of the reasons why I love the SAHM Casual Wardrobe Basics Builder. There are some fun splashes of color that have me more than ready for a change of season.
As I contemplate my spring capsule, I'm also thinking toward our trip to the UK in May, planning for rain, layers, and comfy shoes. I'm focusing on coral, navy, red, and teal, and am really excited to see how it all comes together!
So, those are five (current) favorite things. They are subject to change. It is fashion after all. 😉 I'd love to hear about YOUR current faves!
What are YOUR five favorite things for fashion?
Other posts in the Fight the Frump series: