Learn Zach's story and be inspired to fly a little higher and really live.
This giveaway is now closed. Congrats to the winners: sheryl0620@, jjcasillas1988@, Corynchar@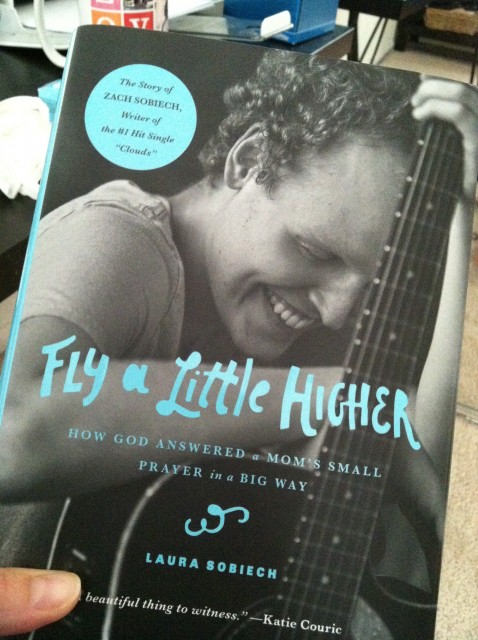 Cancer is one of my worst nightmares. It doesn't matter if it's me, my husband, or one of my kids — that fear haunts me often. It's a cruel disease that leaves havoc and heartbreak in its wake. Since I've had chronic hip pain for two years now*, that fear has knocked on the door of my mind more than once.
So, it comes as no surprise that last year when I saw this video about Zach Sobiech that I was a wreck. A total and complete wreck for days.
I watched it again with FishPapa a few months ago and just bawled my eyes out. Again.
Then I found out that Zach's mom, Laura, had written their story down in Fly a Little Higher: How God Answered a Mom's Small Prayer in a Big Way. I was a little apprehensive about reading it, wondering if I had the mental bandwidth to walk through the book. I ended up whipping through the review copy the publisher sent in just a few days.
This mom, just a few years older than I am, with kids just a bit older than mine, had walked through my worst nightmare and lived to share the story in a beautiful, hopeful, heartbreaking way. I walked away from this book with a renewed sense of love for my kids.
Laura Sobiech lived my worst fear — and here I've been wasting time in the worry of it.
Zach was the boy who lived even though he knew he would die. He embraced the life that he had left and did something with that time, giving new meaning to "redeeming the days".
Laura is an excellent writer. The story is well told. It will break your heart and lift you up at the same time.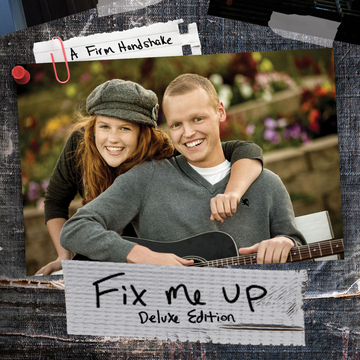 Part of Zach's story is that he wrote farewell songs to the people he loved. One of them, Clouds, hit the top of the charts and has been covered over and over again. It quickly went viral selling over 300,000 downloads and raising close to $800,000 for Children's Cancer Research. It's a beautiful song.
Clouds and a number of Zach's songs have been compiled into an album featuring his band A Firm Handshake. I received a review digital copy of the album and have really enjoyed hearing a few more pieces of Zach's story — through music.
A portion of the net proceeds from the sale of Fix Me Up (Deluxe Edition) are being donated to the Zach Sobiech Osteorcarcoma Fund at Children's Cancer Research Fund to find a cure for this rare, devastating cancer, and Rock the Cause, a music based non-profit that empowers young people to get involved in their communities.
The book and the CD are both worth the investment, both experientially as well as from a charitable standpoint. Just be sure to have lots of kleenex nearby!
(If you want to buy the book or CD and also support this site as well, you can buy them on Amazon.)
Win a book and CD
This week Rock the Cause is offering a book and CD for each of three Life as MOM readers.
To Enter:
Simply complete the information on this form. Please know that the information is only being gathered for the purposes of mailing you your prize in the event that you are chosen as the winner. This information will not be sold, traded, or given away.
This promotion is open until Sunday, June 15, 2014 at 7 pm PST and is limited to US residents, 18 years or older. Friends and family of Jessica Fisher and Life as MOM are ineligible for entry. The winners will be chosen randomly. This post will be updated with the beginning of the winner's email address. The prize for this promotion is provided by and shipped by Rock the Cause and/or its representatives. Jessica Fisher and Life as MOM will not be held responsible for unclaimed or undelivered prizes.
*FYI: The pain seems to be in check now that I'm exercising regularly and stretching via yoga.
Disclosure: I received review copies of the CD and book. All opinions are my own. If you want to buy the book or CD and also support this site, you can buy them on Amazon.