Follow Great Travel Blogs
We are a participant in the Amazon Services LLC Associates Program, an affiliate advertising program designed to provide a means for us to earn fees by linking to Amazon.com and affiliated sites. We participate in other affiliate programs as well. For more details, please see our disclosure policy.
If you're planning a trip, find a few travel blogs to help you navigate and learn more about your destination.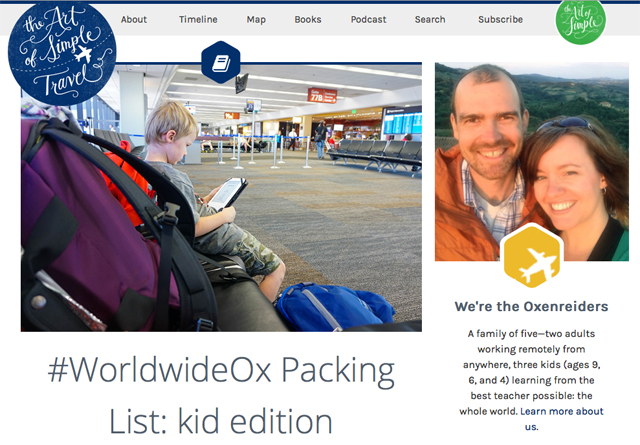 You know that it's always a good practice to find a few good blogs about things that you want to know more about, right?
Like if you want to cook inexpensive but tasty food? Or if you want to learn more about how to manage your house and family? You find blogs that help you do that. Blogs are different from large websites because that they add a personal touch and real life experience. You can get to know the person behind the writing a little bit more.
When you're researching a trip or travel in general, it helps to have some go-to resources. Here are some of my favorite travel blogs:
General Travel Blogs
The Art of Simple Travel – My friend Tsh and her family are heading around the world. This is there new blog, an offshoot of The Art of Simple. While it's still a baby blog, it promises to be a great read — all year long.
Wolter's World – I discovered Wolter's World when I was researching travel tips for families. Mark is a college professor. He and his wife have two kids and take them wherever they go — which is lots of places. Their blog is mostly videos. They aren't "professional" quality videos, but they are super-duper helpful. My kids love watching them.
Travel Fashion Girl – I found Travel Fashion Girl when I was researching how to pack light. As one reader put it, I'm more interested in herding my cats than worrying about our stuff. So, I want to pack as little as possible. I've found all kinds of clothes packing tips on this site.
Blogs about France
Oui in France – Carrie hooked me into this blog. The blogger is an American woman married to a Frenchman, living in France. Her observations about the differences between the two cultures is super insightful.
French Word a Day – Kristin is another American married to a Frenchman. She lives in Provence and writes a daily word lesson, full of interesting anecdotes.
Chez Bonne Femme – Wini wrote one of my favorite cookbooks, The Bonne Femme Cookbook. She's an American writer who's traveled extensively through France, even to Collioure, one of my favorite cities.
Views from My Kitchen Sink – A reader recommended that I follow Pam's blog. She's the mom of an American family living in Paris. They've lived all over the world, actually, and continue to travel quite a bit. Our budgets are clearly very different, but I enjoy reading her posts all the same.
Have YOU got a favorite travel blog that you follow?
Travel with Kids
This is part of the Travel with Kids series. Every day in October, I'm posting tips, tricks, and tutorials for making all your travels fun, frugal, and family-friendly.
Be sure to read through the archives in case you missed a post.