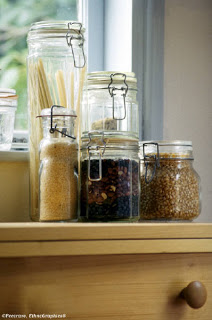 I've mentioned before that our family has become a group of Food Network junkies. It is basically the only channel we watch these days, now that football season is over — and the kids love it. Amazing. But, since food is so near and dear to our hearts, I guess it makes sense.
One show that we enjoy is called Chopped. Professional chefs compete against one another to create amazing meals with "mystery ingredients". For instance, a recent main dish had to include scallops, collard greens, honey, and anchovies. They can add from what's in the pantry, but oftentimes, the pantry items are limited in order to make their task a little more challenging. The show starts with four contestants and after each course, one of them "is chopped." They are eliminated and the next round continues with fewer people. It's like American Idol for food geeks.
When you think about the concept of the show it's a lot like frugal cooking. You design your meals around what's on sale or what you have on hand. And sometimes you don't have a whole lot of control.
This week, my food budget is getting a chopping. The pantry seems pretty full, so I'm going to not spend more than $25 this week, probably on produce and milk. And here's what we'll be eating:
Sunday
cinnamon rolls and fruit
leftovers
almost free meal at Chilis
Monday
oatmeal and apples
tuna sandwiches, veggies, and dip
spaghetti and meatballs, steamed cauliflower
Tuesday
cereal, milk, and fruit
snacky lunch
roast chicken, rice pilaf, and asparagus
Wednesday
eggs and toast
PB&J, veggies, and dip
chicken chili and cornbread
Thursday
muffins and smoothies
hot dogs and veggies
pasta and alfredo sauce, salad, and cornbread
Friday
waffles and berries
pasta salad
carnitas tacos, rice and beans
Saturday
pancakes and scrambled eggs, fruit
chicken salad sandwiches, veggies
ribs and chicken, potato salad, veggies and dip
How about you? What's cooking at your place? Visit I'm an Organizing Junkie on Mondays for meal planning inspiration galore.