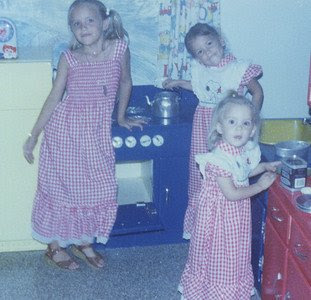 Me and my sisters, 1979
I confess.
I am a Food Network geek.
To be honest, I was rather displeased when we first got Direct TV. I did not see the expense one that I wanted to pay every month. But, I knew that FishPapa and the boys love to watch football together and I figured it was a small price to pay to encourage this male bonding thing.
For his part, FishPapa knew that once football season was over, there wasn't a point in having television. At least not for our family. We had gone without it for 15 years, we'd survive another few decades. But, what was done was done. Football games ran on Sundays and Saturdays and whatever day in between they happened to fall on. Occasionally, FP checked out the science channels, but those are kind of all over the place. We've tried to be careful about what the kids watch, so we knew that most of the prime time stuff was probably not where we wanted to go.
And then, one blissful day, I was flipping through the 500 random listings on Direct TV and saw one that said Food Network. Holding my breath, I pushed the button, wondering if it was a channel that was part of our package.
It was.
And so our new life as Food Network junkies began. Some of our favorites? Good Eats, Iron Chef America, Chopped, and Ultimate Recipe Showdown. Bobby Flay and Alton Brown are household names around these here parts. The kids' interests in cooking have exploded.
And my kids told me what a shallot was as we were walking through the store last week.
"It's as if an onion and a garlic got married and had a shallot."
How true it is.
We're making memories and learning a lot. And someday I won't have to be the one making dinner.