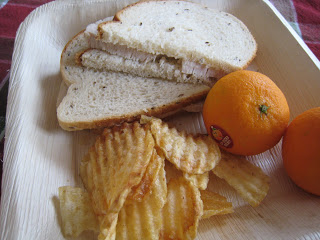 Isn't it funny how important food, and specifically holiday recipes, can be to our memories of special events? On Sunday, we headed to my parents' for a small family reunion. Lil' smokies and See's candy were present! Good thing as they are so much a part of our family's traditions.
Another key figure at our family get-together was my favorite Christmas sandwich: turkey on rye bread with a little mayo and salt. That is a must-have for me whenever there's leftover turkey. And I was pleased to find all the fixins in Nanna's kitchen.
I recently found out that Sara Lee Bakery makes rye bread in addition to the other sandwich breads they produce. It is delicious! We've been testing both their Pumperknickel and Jewish Rye varieties. The whole family has enjoyed them.
Sara Lee, Hillshire Farms, and Walmart have teamed up to create a website to help you make your family's holiday traditions memorable. It's called Tasty Holiday Ideas and features recipes as well as a chance to win $500 when you share how these products have made your family's holidays special. Pop over there and see what you can add to your New Year's celebration.
Disclosure: I recently received some free product coupons from Sara Lee and Hillshire Farms and a Walmart gift card to test out these products and recipes.