Free Batteries! Pay Just a Wee Bit of Tax
We are a participant in the Amazon Services LLC Associates Program, an affiliate advertising program designed to provide a means for us to earn fees by linking to Amazon.com and affiliated sites. We participate in other affiliate programs as well. For more details, please see our disclosure policy.
Last December there were great deals on batteries that I did not take advantage of. And I regretted it. This year? No, ma'am. Not gonna do it. Wouldn't be prudent….
to let free batteries slip through my fingers.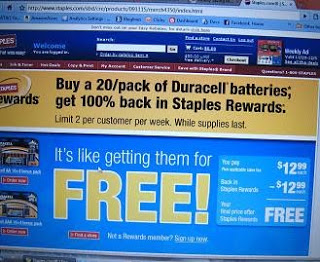 Thanks to a head's up from Money Saving Mom, my husband will be picking up 40 free batteries this week at Staples. Why are we not rushing out right this minute? After all, it is "while supplies last." Well, I placed my order online and I used ShopAtHome to do it. Not only will I be getting Staples Rewards in January, but I'm also going to receive 3% back on the entire purchase from ShopAtHome.
Here's what I did.
1. Sign up for a ShopAtHome account. It's free. And you get $5 just for signing up.
2. Search ShopAtHome's database for Staples. Click through that portal which will take you to Staples' website.
3. Sign up for a Staples Rewards card if you don't already have one. I had one in my wallet.
4. On the main page are details for this great battery deal. Buy a Bonus pack of Duracell AA or AAA batteries for $12.99, get back $12.99 in Staples Rewards in January. Make sure the batteries you buy have a description of this deal. My tax was $2.14, but 3% of my total purchase was $.84, so I'm paying a buck thirty for 40 batteries!
5. Order the batteries (limit 2 per week per customer) and select free site to store shipping.
6. Enjoy free batteries this Christmas.