The following content is sponsored by Zondervan. This post contains affiliate links.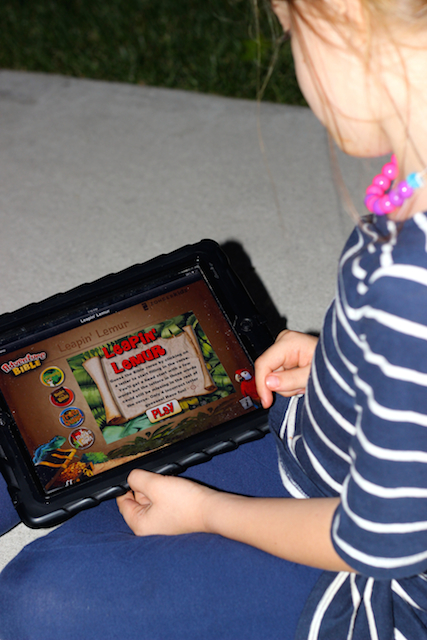 I'm always amazed at how kids learn. Technology has developed at such a rapid clip that we've got such amazing access to information. It's really quite stunning.
When my kids bust out with a little factoid that I know I didn't teach them, I'm often surprised to find out that they learned it from a computer game. I have been one to roll my eyes at "educational games" that don't really teach, especially those with flying pigs. Or is it birds?
Anyway, I'm always relieved when I see and hear my kids spout useful information that they learned from a computer. Honestly? It relieves a little mom guilt over their screen time.
I mentioned last week how we're using technology a little bit more in our homeschool. The kids are drawn to screens like moths to a flame, so why not use it to our advantage? I've downloaded some really great apps for spelling, phonograms, math facts, and grammar.
The newest edition to our app arsenal is the Adventure Bible Games for Kids . It's a fun and free way to help kids learn Scripture, Bible facts, and otherwise interact with God's word in a way that's readily accessible to them.
The kids and I typically read and discuss a Bible passage or story as part of our homeschool day. I like these games for enforcing things we've learned as well as adding a bit of healthy competition into the mix.
I played a few rounds of Leopardy and have to admit, I missed a few! I've read the entire Bible at least three times in my lifetime, so I was kinda humbled that I really don't know it all. The game is geared for kids 6 to 8, but I am confident that the game will challenge older kids as well. I was challenged! (It was a little too hard for FishChick7 to play.)
ZonderKidz' Adventure Bible site has a lot of FREE resources available to you and your family, including but not limited to:
I'm particularly impressed with some of the Bible resources available to parents and teachers. I personally believe that it's the responsibility of my husband and me to teach our kids the truths of the Bible and our particular doctrinal bent. Sunday School teachers and others at church can certainly play a vital role in that, but we feel like the ultimate responsibility lies with us.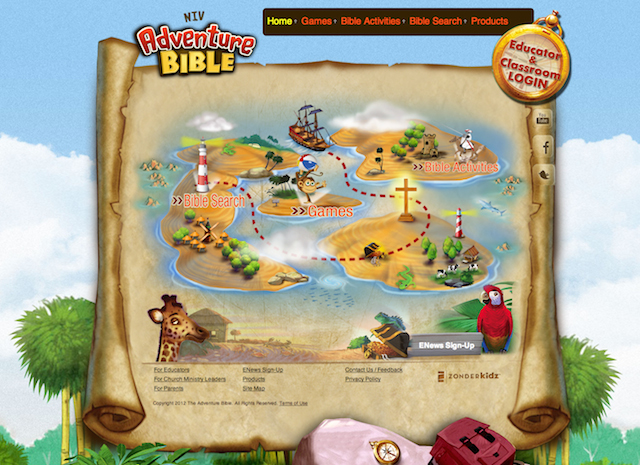 That said, I appreciate finding resources to help us do that. I really like in the Bible Activities section where there are reading plans, devotionals, games, memory verse flashcards, maps, and illustrations. These resources are geared toward kids 3rd grade and up which is a prime reading group.
You can download the app for FREE from iTunes or play the games online on the ZonderKidz site. That's where you can also access the extra teaching tools, etc.
I see the app and the online resources as a great complement to talking about the Bible with your kids and getting to know it together.
Do YOU have a favorite means for learning the Bible with your kids?
Disclosure: I have been compensated for my time spent writing this post. This post does include an affiliate link.