Free iPhone Apps to Help Your Every Day
We are a participant in the Amazon Services LLC Associates Program, an affiliate advertising program designed to provide a means for us to earn fees by linking to Amazon.com and affiliated sites. We participate in other affiliate programs as well. For more details, please see our disclosure policy.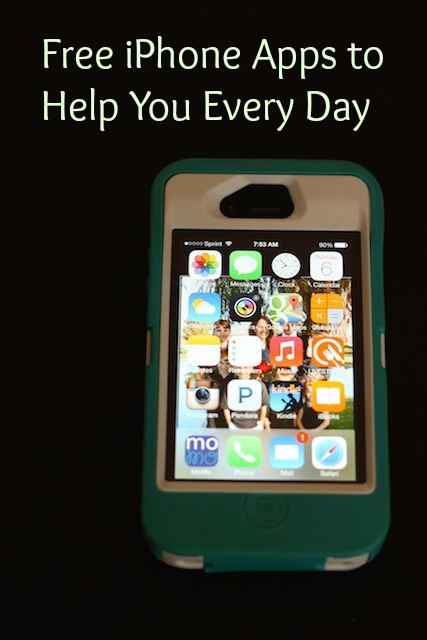 I've had my iPhone for about two years now. It was a big leap for me to get one. Previously, I'd owned only free, not-so-smart phones that I upgraded only when the provider was offering me a new FREE phone. It took a lot of convincing to get me to pay even one cent for a phone when they could be had for free.
I can be pretty stubborn sometimes. Just ask my husband.
I bought an iPhone 4 when there were newer, fancier models to choose from because it was cheaper. I paid $99. I didn't need all the bells and whistles. I've since found that this is the way with me and Apple products. They come out with something new and I buy the older model for a cheaper price. I'm sure they have an entire marketing team who planned it that way.
Regardless, "my 4" has served me really well as a phone, as a camera, and as a personal planner. While I'm still a pencil and paper kind of girl and keep a physical household notebook, I also make good use of a number of apps on my iPhone.
I was recently approached by an app company to help them develop some new add-ons to their productivity platform. It seemed really exciting at the outset since it's a nationally known application, but there were some snags in the whole thing. One, I'll be honest, the compensation structure was complicated and not guaranteed. I've got too much to do to work for free. Two, the contract required a blanket endorsement of their whole line of product, with which I'm not really familiar. It's really important to me that whatever I recommend to you is really worth your time. If it's just a guess that it might be, well, that's not good enough.
How could I tell you to go use product X and buy their add-ons, when really? Most of the apps I use on a regular basis are free; many are even pre-installed apps straight from Apple. So rather than sell you on something you may or may not need, I figured I'd just share how these help me and how you can make these iPhone apps work for you.
I do not want to tout myself as a Mac devotee, but now that I have an iPhone, iPad, and an iMac, I guess you could say I'm sold. I think PCs are great. There were honestly just too many choices out there. Macs are pretty straightforward and your choices are limited. So far, I'm a fan.
If you don't own an Apple product, my guess is that there are similar apps available on other smart phones and tablets, presumably for free. Please share those in the comments so others can benefit from that comparison.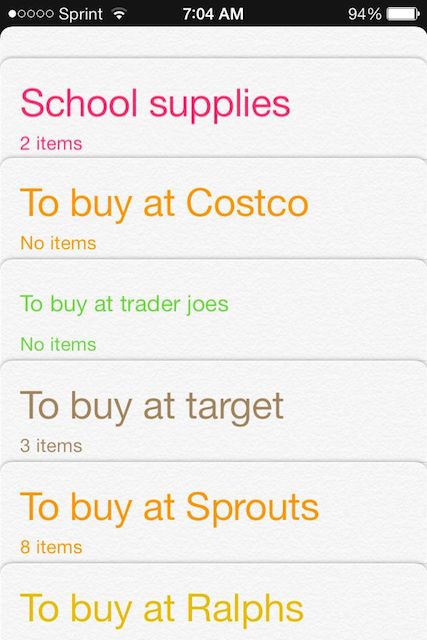 Free iPhone Apps to Help Your Every Day
I think a lot of us don't pay attention to programs and apps that come pre-installed on our phones, tablets, and computers. Here are three that I love and use every day of my life.
Reminders
I love Reminders. I create all kinds of checklists in here. Currently, I've got running lists for all the stores that I shop at, packing checklists for road trips, a bathroom cleaning checklist for my kids to know when the task is truly done, lists of recipes to develop, school supplies to buy, and of course, things to do.
The app will show you what's on your list, allow you to see the history of what's been on the list, and allow you to move items easily from one list to another. Bonus points: it syncs to my iPad as well as my computer, so I can consult my lists or add to it no matter where I am. Well, except the shower.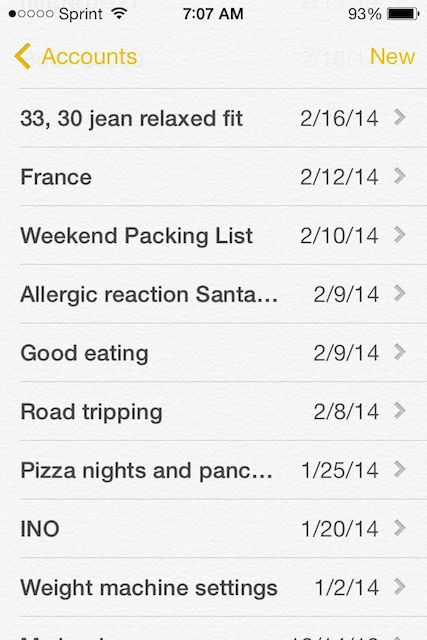 Notes
This is simply a notepad app. No big deal, right? Well, I use this sucker all the time. I've got an amazing array of notes:
a master weekend packing list
a running list of things to see in France and England on our trip
a note about FishChick's recent (and serious) allergic reaction to dust and weeds to share with the allergist
a list of places to stop along the 5 and the 405 as we drive to and from Santa Barbara and Los Angeles on weekend trips
our regular order for In-N-Out Burger
the weight machine settings for when I'm at the gym
clothing sizes for my people for when I go shopping
songs that I like on Pandora and want to  buy
possible post topics or recipe ideas
a list of sugar-free breakfasts for our sugar fast
special quotes I want to remember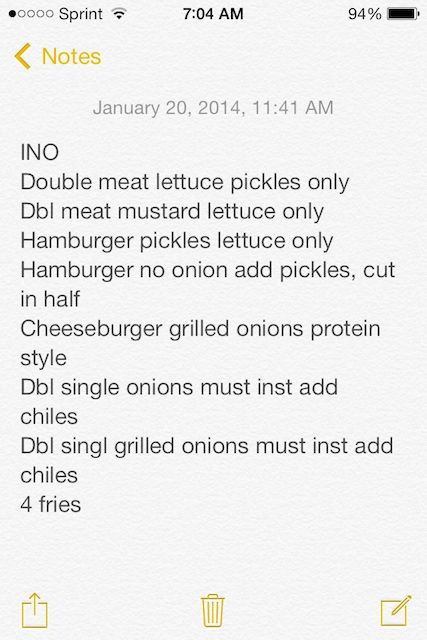 Obviously, the uses for Notes knows no bounds. Again, it syncs to all your other devices, and the bonus here is that you can text or email your note to someone else. This is super helpful, especially when FishPapa is running to In-N-Out Burger for me.
Calendar
While I love my paper calendar, I love the digital calendar because it can be more easily shared and it can remind me of what I need to do. In fact, every morning my Google Calendar sends me an email of my schedule for the day. I have dodged many a missed-appointment-bullet this way.
I sync my Apple ID with Google calendar. I'm a Gmail kind of girl and love the interconnectedness of Gmail and Google Calendar. My husband and the two big boys all have Gmail accounts so I can easily share appointments with them. The beauty of your kids growing in a technological world is that they have no excuse for not knowing your agenda.
I know a smart phone is not in the budget for everyone. It took a HUGE amount of convincing for me to take the leap and by an iPhone. $99 is a lot of money. I can't imagine paying more than that. Hint: I probably will not be upgrading any time soon unless I have to. But, if you are able to invest in a smart phone or tablet, there are ways to make free technology work for you in lots of great ways.
These three apps are nothing "special". They are not hyped in any way; they are not considered de rigueur, probably because every smart phone has them or something like them. But, they are free and super helpful.
Do YOU have a free app that you love?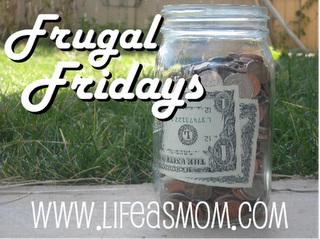 This is Frugal Friday. In an effort to make these weekly financial discussions more interactive, I'm no longer posting a link-up. Feel free to leave a link in the comments. But better yet, chat with us on today's topic.