Want to plan a fabulous holiday?
A Simpler Season
holds almost everything you need to do just that.
This guide to planning the winter holidays provides creative ideas , time-saving tips, and budget-minded inspiration for making the most of Thanksgiving, Christmas, and New Year's. With the busy family in mind, I've provided recipes, to-do lists, children's activity sheets, planning pages, gift ideas, and step-by-step tutorials for creating homemade gifts. Grab your copy today.
Ready to say farewell to 2011? Spend some time planning some New Year's fun with your children. Free download today helps you do just that.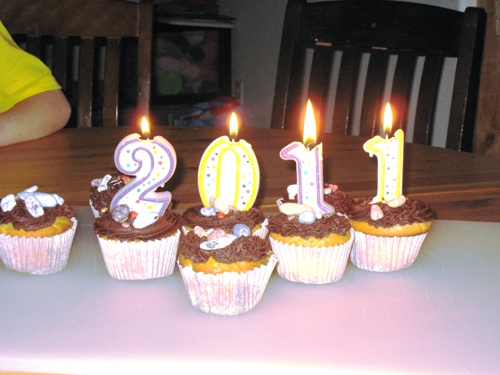 I hope that you had a wonderful Christmas weekend! For that matter, I hope that the entire season was one of resting and rejoicing for you.
While I didn't do all the things that I had hoped to do (we never did go "light looking"), we did have a wonderful season and are just now enjoying the start of our winter break, taking some days off school while hubs is home from work. We've got a small road trip planned as well as some staycation-type activities.
And then, we always make sure to be home in time for New Year's Eve. We're not ones to travel much ON holidays. We prefer to stay home, be cozy, and avoid the traffic. Over the years, we've developed some simple, yet fun traditions for celebrating the new year with our kids.
(We're also not those folks who ring in the new year in dress tails and high heels. We've always been homebodies, with kids and without.)
Ready to kiss 2011 goodbye?
As a final installment of A Simpler Season, I've got a FREE downloadable New Year's booklet with ideas, planning pages, recipes, and menu plans for both New Year's Eve and New Year's Day. Nothing is too complicated and there is plenty of choice. Flip through the booklet and choose a couple new traditions to fold into the fabric of your family life. It'll be fun. I promise.
Do you have any special New Year's traditions?