Looking for a fun, but inexpensive gift to give to your hubby and kids this Valentine's Day? How about a packet of coupons customized for fun little treats throughout the month of February?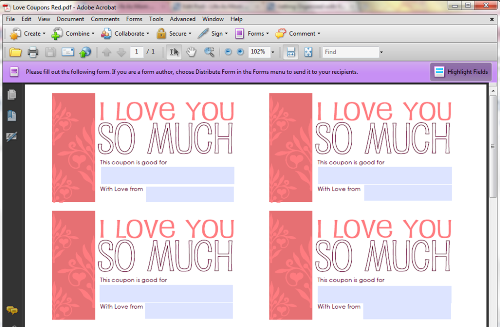 Like the printable Christmas tags I put together in December, these coupons have an autofill feature. The blue highlighted spots indicate a space for you to type in and customize the coupons.
Type your name in once and all the coupons will be signed "With Love from Mom." Or whatever name you choose to use, like Super Ultra Lightening Babe.
I'd save that one for your hubby.
Two colors of FREE Printable Valentines coupons
You can download a sheet of these coupons in blue and in red. And if you have printable business card paper in 3.5×2 inch size, you should be able to print these out and pop them apart in a matter of seconds.
Printing them on cardstock or regular white paper works just as well, too. String your coupon book together with a red ribbon and you're good to go.
What to Give?
Ideas for kid coupons:

a night off dishes
one hour video game time
breakfast in bed
a trip to the movies
one free donut
a run to the ice cream shop

Ideas for sweetie coupons:

one free backrub
a datenight of your choosing
a day free of diaper changing
you get to choose the movie with blood and gore
a morning trip to Starbucks
Easy Valentine to give with minimal work for an even better price — free!
What kind of coupons would your family like to receive?