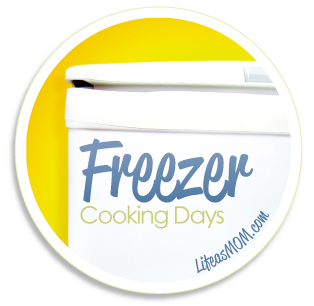 I told you on Friday about my recent, and albeit, ambitious plan for freezer cooking. It all started with a trip to Costco in which I bought more than my refrigerator could hold. Apparently, my cup runneth over. It was a rather impromptu plan that I put together on my return home.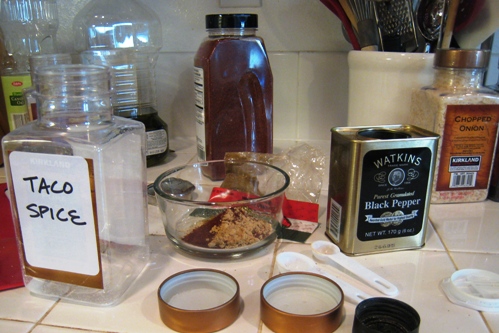 Once I had cleaned the kitchen and donned the apron, I got the main components ready, namely the spice mixes I would be using for the taco meat and the pulled pork. I buy spices in bulk and that makes it easy and economical to mix up my own blends.
I got the pork cooking in the crockpot and started some of the ground beef to cook for taco meat. On a whim, I mixed the rest of the ground beef into meatballs. I had found several containers of gravy in the freezer when I inventoried, so I knew that would be a good way to add variety to our meals this month without a lot of extra work.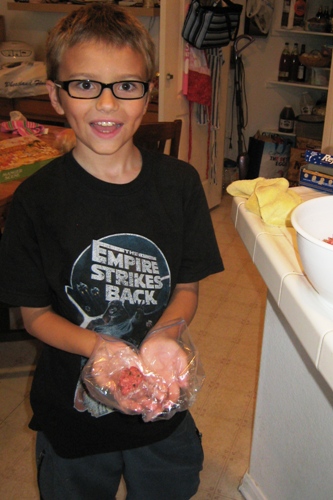 I also enlisted some help. FishBoy9 helped me form the meatballs which was nice on the work end, but also nice for the companionship. He wants to be a chef when he grows up, so I am looking forward to more help in meal prep.
That first day I did cooking which resulted in at least ten meals for the freezer. A few years ago this might have been 30 meals. But, it would appear that my family's appetites have grown. I'm going to need to step things up a bit.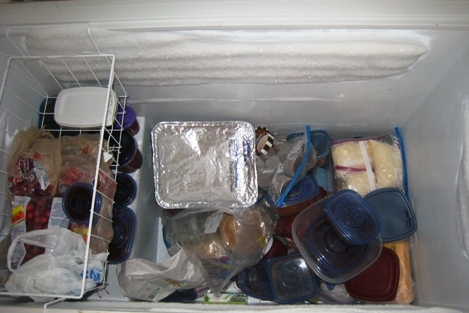 That night I went to bed contented that there was a growing stockpile in the freezer that I would add to the next day. However, I was awoken at 5 am by a piercing beep. The freezer alarm. Apparently things were getting warm in the deep freeze. Bleary eyed, I crammed the most valuable frozen foods into the side-by-side refrigerator freezer and hoped for the best.
We think that someone placed a box of muffins too close to the top of the freezer, preventing it from sealing completely and allowing warm air in (or cold air out). As you can imagine, I was a little gunshy to tackle more freezer cooking and have it go to waste. So, we've been slowly eating what we already had in the refrigerator as well as researching our options for a replacement freezer. It is still running, and the alarm has gone off once or twice, only after the door was opened. So, we think the alarm just might be really sensitive.
I've been freezer shopping and quite frankly disappointed in the price points. I know, Craigslist, but I don't want to do used and then end up in the same boat, with an older freezer on its way out. Our current Frigidaire is 12 years old and certainly served our family well. Not counting electricity costs, it has averaged now about $15 a year. I'd like to know how my $400 investment would pencil out.
You can be sure that I'll update you on what I decide! In the meantime, this is how my cooking session ended:
My plan v. my results:
Aunt Sandy's Broccoli and Cauliflower Soup – didn't happen until Soup Night a few days later.
Chicken Enchiladas – never happened
Taco Meat – 3 dinners worth
Taco Seasoning – big batch with some leftover
Brats to repackage from a bulk package – 3 dinners worth
Pulled Pork – 3 dinners worth
Applesauce – never happened
Apple Pies – never happened
Muffins – one batch of Zucchini-Cranberry muffins
Eggplant-Squash Casserole – never happened
Baking mixes – never happened
Pumpkin custards – baked these a few days later
Crumb-topped cod kits – never happened
Added: Meatballs
Added: homemade BBQ Sauce
Added: sauteed vegetables to add to soups and stews
How did YOUR freezer cooking go?