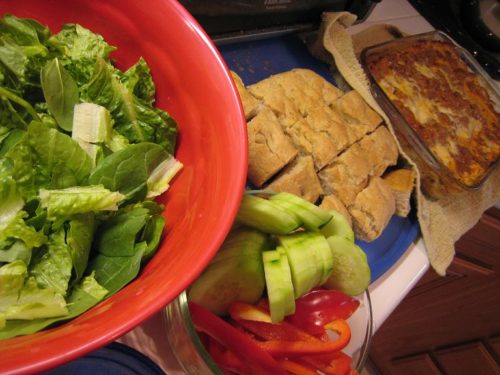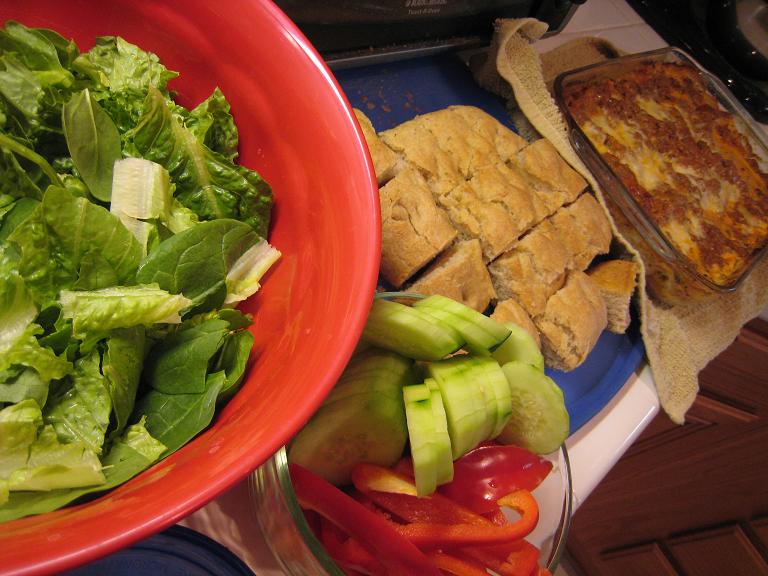 How do you feed a family of eight?!
Well, that's a tricky question. We have gone beyond the family that only eats 1/2 pound of bacon for BLTs. We could easily consume two pounds in a meal. And it seems that not five minutes pass after dinner before someone says, "I'm hungry." My word, I could cook all day.
As you know by now, freezer cooking is a way that I can stay one small step ahead of the game. Each month I cook up double and triple batches of different foods and then store them in the freezer. I've been doing this since it was just me and FishPapa, so I don't think it's a big family thing. In fact, some big families have a hard time with freezer cooking because of the massive amounts of food needed for a meal. For now, this works for us.
Once I have my stash of meals and meal components, I turn to a fresh Monthly Meal Plan page in my planner and start filling in the blanks. I assign every day a different meal and since I'm looking at the month as a whole, I try to spread like items around so that we aren't having Italian dishes four nights in one week. I try to limit red meat to 1-2 times per week. I account for special occasions, weekends, and the like.
I don't stick to the plan all the time, but it's a great target for me to shoot for. Quite honestly, I prefer to be spontaneous, but I don't like spontaneity that necessitates fast food when I don't have anything better. And it's getting harder to be as spontaneous with a large family.
You can't turn an aircraft carrier on a dime.
Freezer cooking helps, but I still have to have a plan and I have to follow through and pull items from the freezer.
One thing you'll notice in my meal plan this month is that some meals are repeated, twice or even weekly. These are meals that are easy to pull together and that my family loves. Taco Tuesday and Friday Pizza Nights are regulars that make life just a little simpler and give our weeks some routine.
Here's what I'm shooting for in April:
1. Minestrone Soup

2. Pizza Night: Homemade Pizza and ChiChi's Salad – The cheese was already grated and some of the pizza toppings were already prepped

3. Lasagna, Green Salad, and Foccacia Bread – The lasagna and foccacia were from freezer cooking. I prefer not to bake the lasagna until the day I serve it. The foccacia was already baked, just needed to thaw and warm.

4. Tri-tip, Roasted Garlic Mashed Potatoes, Green Salad, Butterhorn Rolls – I prepped the tri-tips during last month's freezer cooking. They marinated as they thawed. The Mashed Potatoes thawed overnight and then were warmed in the oven. The butterhorn rolls from the freezer were unbaked and then rose during the afternoon before I baked them.

5. Chimichangas – I store cooked pinto beans, grated cheese and tortillas in the freezer. I thaw them during te day and then assemble burritos at dinnertime and crisp them on the griddle for "mock chimichangas."

6. Taco Night – I precooked the taco meat and stored it in the freezer along with a bag of grated cheese. At dinnertime, I just warm the meat and the taco shells from the pantry and add shredded lettuce and the thawed cheese.

7. Shrimp Pasta Jambalaya

8. Chicken and Rice Bake – The chicken is freezer-marinated, the rice is mixed in a separate bag, uncooked. The broth is frozen in a third container. I just thaw, assemble, and bake.

9. Pizza Night – Homemade Pizza, Veggies, and Ranch Dip – The cheese is already grated and some of the pizza toppings are already prepped.

10. Chicken Enchiladas, Beans, Rice, Green Salad – The enchiladas are already assembled; I'll just thaw and bake. The beans are cooked and frozen; just warm up at serving time. The rice and salad I make from scratch.

11. Greek Steak, Pita Bread, and Couscous Salad – The steak is already marinated. I'll just let it thaw before FishPapa cooks it up. The pita bread and couscous salad are items I'll mix up fresh. And if I get a good photo, I'll share the recipes.

12. Rice and Beans – The cooked beans and grated cheese are ready in the freezer. I can thaw them the morning of and cook up a pot of Mexican Rice that night.

13. Taco Night – see above

14. Pancake Night

15. Lasagna, Green Salad, and Foccacia Bread – The lasagna and foccacia are from freezer cooking. I prefer not to bake the lasagna until the day I serve it. The foccacia is already baked, just need to thaw and warm.

16. Pizza Night – see above

17. Chimichangas – see above

18. Chicken Cacciatore – The chicken breasts are frozen in a seasoned tomato sauce. I will most likely thaw and then cook in the crockpot and serve over pasta.

19. Calzones with Chicken, Sausage and Pepper – I anticipate leftover chicken and sauce from the previous night that I will work into Calzones.

20. Taco Night – see above

21. Pasta w/ Meatballs, Salad, Foccacia – The red sauce, meatballs, and foccacia are from the freezer. I'll cook up fresh noodles and toss a salad.

22. Rice and Beans – see above

23. Pizza Night – see above

24. Meatloaf and Mashed Potatoes, Salad, Rolls – Everything but the salad is in the freezer.

25. Paella with Shrimp and Sausage, Salad, Baguette

26. Pasta w/ Red Sauce, Salad, Cornbread

27. Taco Night – see above

28. Pancake Supper

29. Meatballs and Mashed Potatoes, Salad, Rolls – The meatballs, mashed potatoes, and rolls are in the freezer.

30. Pizza Night – see above
My freezer is not full of casseroles, but almost every meal this month has some of the work already done for me. I threw in a few full-on cooking nights because I enjoy cooking and experimenting. Here's hoping my plan works.
What's your plan?
For more meal planning inspiration, visit I'm an Organizing Junkie.