This is part of an extensive series on Freezer Cooking. Be sure to read the archives here and on my food blog Good Cheap Eats for the complete 411 on how to save money by "make-ahead and freeze" tactics. Or just buy my book.
Convenience foods have been the name of the homemaker's game for quite some time.
— Those in the hustle and bustle of 1920s relished in the first fast-food restaurants where meals could be enjoyed quickly and at low cost.
— Busy cooks in the late 1940s were the first to enjoy the luxury of a packaged "just add water" cake mix from which to bake the evening's dessert.
— In 1954 the first "TV dinner" was created.
Today's home manager is no different from her predecessors in wanting quick cuts to get her toward dinnertime faster and more economically. However, modern day  "convenience" items are no longer "the best thing since sliced bread." They can take a huge bite out of one's budget, and usually they aren't the healthiest food choices around.
There must be a better way.
There is. It's called freezer cooking. Also known as once-a-month cooking, batch cooking, or bulk cooking, it's a way to make your own convenience foods. There are lots of ways to approach it. Today, I'm going to present the basics to cooking a month's worth of meals.
Is it crazy for a couple days? You betcha! Is it worth it in the end? Absolutely! Think of having a month's worth of meals already planned and mostly, if not completely, prepared. That's less mess, less work, less brain cells to use on any given night. And I don't know about you, but I need all the brain cells I can get these days.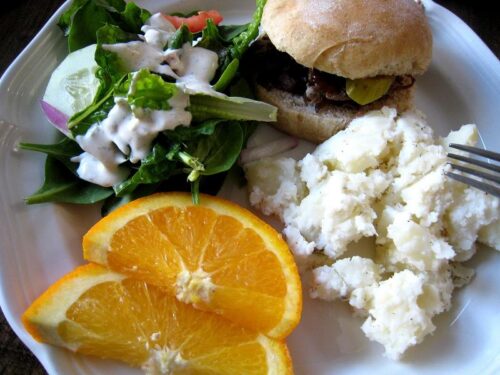 Some advance preparation is needed to really make this work for you.
You're going to need energy – Cooking takes work even if you're just preparing Monday night's dinner. Sometimes you have to stir up extra motivation and push through. All the more so if you are going to cook multiple meals at one time. Even though you're making 30 times as many meals, you won't be using 30 times the energy. But, you'll need to be at your best, so choose a time when life is fairly low key, when there aren't many demands on your time or your body. If you're just recovering from an illness or something else that has sapped your strength, wait until your energy levels are up.
You're going to need time – Allot at least 1-3 days of time for planning, shopping, chopping, and cooking. These won't be full 8-hour days, but you'll need to devote some attention to this endeavor, especially if it's your first go at it. Free up your calendar so that houseguests don't arrive while you have a fridge full of perishables that need to get cooked and stored. Likewise, arrange some childcare or other entertainment for the children.
You're going to need a good stockpile of groceries or a lump of seed money – Since you will be cooking a month's worth of meals, you will need to buy a month's worth of groceries at one time – at least what is needed to prepare 30 dinners. If you keep a pretty full pantry you might be okay, but otherwise, prepare to shell out some money up front. You will want to make sure that you have enough leftover in your food budget to cover breakfasts and lunches.
If you don't have your grocery money at the beginning of the month, you can work around this in several ways. You can accumulate grocery items over time or just set aside a small amount of your food budget each week. If you'd rather, you could start out just cooking for a two week time period. This is particularly helpful for your first time, so that you can accustom yourself to cooking in bulk. However you swing it, in the long run, you will actually spend less because you are buying items in bulk rather than buying small amounts over a period of four weeks.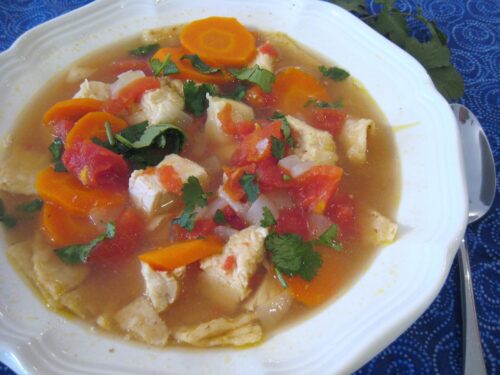 How to Plan for Freezer Cooking
1. Choose 5-10 recipes that you know your family likes. You're going to triple or quadruple these dishes, so don't go experimenting with a recipe that they may hate. For inspiration, check out this list of things you can freeze. You may want to visit your freezer and pantry to see what ingredients you already have. Build your list from your food storage first and then consult the grocery ads to see what might be a good deal this week.
Vary the types (beef, pork, poultry, etc) so that you don't get bored by week 3. But also choose dishes that have similar ingredients so that you will achieve the bulk-buying savings. For instance, if you choose meatloaf, meatballs, and tacos, you can buy many pounds of ground beef at a low price and save time because you can mix all of the meat with onions at one time and then divide it and alter each portion for the individual recipes.
2. Create a grocery list. With paper and pencil in hand, go through each recipe and create a shopping list. For duplicate items, like the aforementioned ground beef, just write tally marks until you get through the recipes and can figure the grand totals of each item. Make sure you consult the contents of your pantry to make sure you don't overbuy. Read my tricks to making it work on a budget.
3. Consider how you will package your meals. Check your inventory of baking dishes, plastic containers and ziptop bags and match them up with the dishes you plan to create. If you don't have enough of something, add that to your list.
3. Plan your prep chef list. In higher end restaurants the chef doesn't usually do all his own chopping and slicing. The prep chef does this. Having the ingredients ready to go will make the cooking go smoother, faster, and more enjoyable. Read each recipe and create a list of all the items that needs to be sliced, grated, chopped or pre-cooked.
4. Plan out the order in which you will cook and assemble the dishes. Do like dishes with like. For instance, tackle the ground beef recipes first. Then the chicken, then the pork, etc. If you're going to make a big pot of red sauce as well as several lasagnas, then you know you need to make the sauce first.
5. Purchase the items at least a day ahead of cooking. You don't want to shop and cook all on the same day. Make sure that you clean out the frig before you go shopping. You'll be amazed at how quickly it fills up. And if you can stand it, just leave the nonperishables in the bags until you start cooking. Why waste time putting them away just to get them back out again?
6. The day before cooking, prep as many of the ingredients as you can. Consult your prep chef list. Do your slicing, dicing, and chopping. Precook meats for casseroles or enchiladas.
7. Get cooking! On the Big Day, pick some music you like, supply yourself with drinks and snacks for munching, make sure the kids are safe and happy, and go to it.
Originally published February 24, 2010. Updated July 21, 2017.