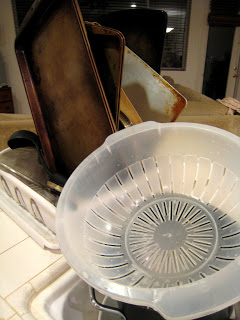 Would you talk some sense into me next time?
Yes, at about 5 pm, I realized that I was in deep. Due to a missing roasting pan, a long-cooking turkey, too much beef to cook in one round, etc, etc, my afternoon stretched into evening. When FishPapa came home, I still had beef to shred, turkey to bone, ragu to cool, gravy to make, yada yada yada.
Earlier I got a little stressed making mac and cheese. I knew several of you were going to try my recipe and I became nervous that it wouldn't be as "life changing" as I promised. I normally use large elbows, but today used small elbow macaroni. It looks different with small elbows, a little less saucy. If you're tackling that recipe, you may want to add an extra 1/2 cup sour cream and an extra handful of cheese to make up for that.
Tonight we had simple turkey sandwiches for dinner instead of whatever was planned. And here at 8:25 I've finished the last load of dishes for the day. I've kinda committed myself to more cooking tomorrow, but I don't think it will be half as difficult as today was. I am thankful that I didn't try to do anything but cook today.
Things cooling or already frozen:
beef ragu
taco meat
meatballs
beef taquitos
red sauce
turkey enchilada casserole
roast turkey
macaroni and cheese
shredded beef for tacos and for gravy
Tomorrow
beef tamales
turkey pot pie
mashed potatoes
granola
applesauce
slab apple pie
cookies? maybe/maybe not.
How did you do?