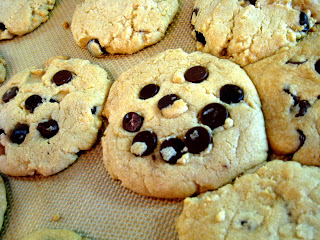 Very cute cookies, thanks to FishBoy8!
Oh, I'm tired. Two days in the kitchen all the while juggling the running of a full household can be fatiguing. But I know that this will be worth it throughout the month. I think this counts as "working hard during the week in order to enjoy family time on the weekend," don't you?
Today didn't have too many casualties except for one tongue burned on too hot applesauce and 8 cups of hot cocoa mix exploding on me and the entire kitchen. Wish I had laughed first, but must confess I did not. We did laugh eventually.
But victories? We got those as well. When all was said and done:
1 batch Touchdown Chili (The fam enjoyed it so much there was only enough from last night's dinner to go on top chili dogs tonight.)
4 containers cooked and seasoned ground beef
2 dinners' worth of hamburgers
2 batches of pizza dough
2 1 batch homemade buns (we are eating one batch tonight)
3 2 apple pies (had one for breakfast)
2 quarts applesauce
4 batches muffin mix
4 batches multi grain pancake mix
4 batches maple-oat scone mix
3 batches cornbread mix
2 dinners' grilled chicken
2 dinners' chicken for summer rolls
1 dinner chicken for stirfry
2 dinners' shredded beef
1 beef soup base
7 cups granola (I don't freeze this)
12 cheesewiches
8 cups cocoa mix
3 big batches foccaccia bread
8 dozen cookies (Gramma John's and a new experiment, Maple-Oat-Walnut)
All of these items will work into our monthly meal plan as well as serve as "on call" items for snacks, breakfasts, and lunches. I know that we will save money, time, and energy in the weeks to come which is a great feeling.
If you had a freezer cooking/baking day of your own, be sure to share your update tonight at MoneySavingMom.
If you've got a great freezer-friendly/make ahead recipe, bring it back here tonight and through the weekend for Ultimate Recipe Swap.
Interested in learning more about Make-Ahead Meals? Be sure to browse my archives. I am working on a book on the topic as well as planning many future posts to help you make a great meal. Stay tuned!