Freezer Cooking Day: The End
We are a participant in the Amazon Services LLC Associates Program, an affiliate advertising program designed to provide a means for us to earn fees by linking to Amazon.com and affiliated sites. We participate in other affiliate programs as well. For more details, please see our disclosure policy.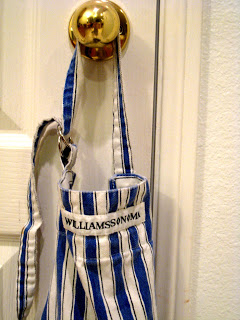 Hanging it up for the night
They say that if you aim at nothing, you'll hit it everytime. And while we both know that I aimed a little higher than humanly possible, it was good to dream a big dream for this freezer cooking day. In the interests of my family's comfort and my sanity, I called it quits at 3:30 this afternoon, opting out of preparing several dishes. If I lived alone, I'd have plowed on through.
But, if I lived alone, I wouldn't need these huge quantities of food.
I'm happy with what I did accomplish. And you can rest easy that SuperWoman does not live at my house. (I think she's over here.) Here's the low-down on what I/we prepped in the last two days: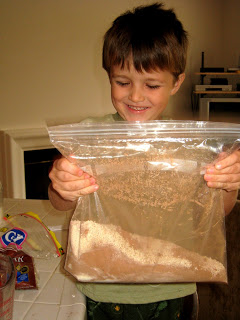 FishBoy mixing up cocoa mix. Always make sure the bag is sealed. (Ask me how I know.)
Breakfasts and Breads
hot cocoa mix
granola – come back later tonight for Ultimate Recipe Swap – new festive granola recipe
biscuit mix saved it for another day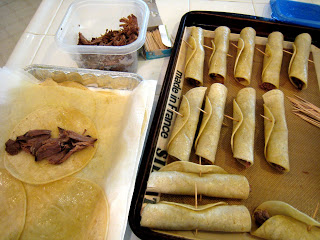 shredded beef taquitos
Main Dishes and Sides
shredded beef and gravy
shredded beef tamales will happen later in the Christmas season
shredded beef taquitos
beef ragu – stay tuned for recipe later
meatballs
taco meat
macaroni and cheese
roast turkey
turkey enchilada casserole
turkey pot pie
pinto beans – due to poor planning this didn't happen
red sauce
mashed potatoes – experimented w/ this. I'll report later if it worked.
Snacks and Sweets
Chocolate Mint-Mountain Top Cookies
Annie Hall's Butter Cookies from Susan Branch
Snowball Cookies We'll definitely do cookies this month, just not today
Slab Apple Pies – these are so easy, especially with machines to do the work…. apple peeler/corer/slicer for the filling, food processor for the crust and topping
How did you do? Share it with us! And don't forget to pop over to MoneySavingMom's tonight to see what all she cooked up and to share your progress in her link-up.
If you're skeptical about all this freezer cooking, I'd love to know why. Maybe we can help. See ya in the comments.