I bought myself sometime this morning by letting FishBaby play in the cupboard. It's not my favorite trick for cooking with kids, but it sure did make her happy. She's now snoozing in her bed, so it's time to book it.
Right now the kids are enjoying applesauce hot from the crockpot. FishBoy7 peeled the apples with my apple peeler-corer-clicer. Applesauce for the freezer is cooling as is the granola. The mixes are mostly made. Just two batches left to go. FishBoy5 and FishChick helped me make these. So great to have help. But, hilarious (sort of) that they fight about whose turn it is. It's a challenge to balance six potential helpers.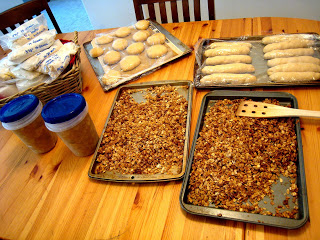 The hamburger and hot dog buns are ready to go in the oven. We've got cornbread and cocoa mixes to make as well as cookies. With luck we'll even be able to make marshmallows today. Not sure if that will happen, but Susan Branch's recipe for them in Autumn has me intrigued.
I'll let you know later.
If you've been following along, I'd love to know what you think. Is this something you do, wish you did, or that you think is nuts?