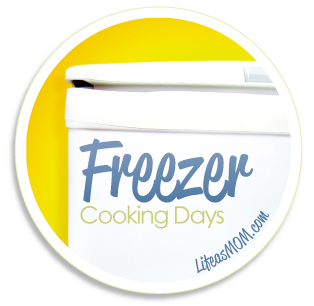 Do you have any tasks on your to-d0 list that are hard to be motivated for, but you're glad you did it when you're done? Like exercising? Cleaning the house? Freezer cooking?
As much as a I love cooking, even freezer cooking, this month's freezer cooking session was hard to get motivated for. I am apt to bite off more than I can chew, and this time was no different. But, I had to do it.
Meal prep is getting more difficult without some pre-made items on hand. Read: I'm tempted to eat out more.
I know that a little elbow grease now buys me a lot of time later. Days later I'll be glad I did.
My family wants to eat.
You see, this past weekend I ventured to the other side of the country on a very rare, but exciting blogging/homeschooling trip. Not only did I get to hang out with bloggers I love (Tsh, Mandi, Heidi, and Stephanie), but I also got to meet the woman partly responsible for my homeschooling lifestyle, one of my homeschooling heroes, Susan Wise Bauer.
Thanks to the great folks at Peace Hill Press, my lovely husband, and some frequent flyer miles, I was able to leave for four days and enjoy a lot of learning and talking and learning some more. This week now that I'm exhausted and a little bit behind on things, freezer cooking will help me catch up! My week's meals are all made, so I won't have to cook!
More, of course, on the trip later this month.
Getting the freezer filled.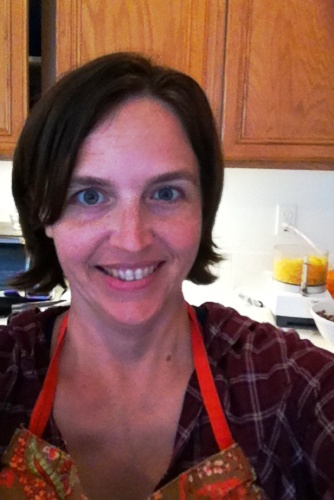 As I mentioned already, when I set forth on this adventure, my list was a little ambitious. (You knew that about me, right?) The weather (gloomy), the grocery stores (missing things), and a few in-house squabbles (those kids ;)) were all working against me for a time, so I had to push through at a number of points.
I also had to shave my plan a little when I ran into snafus, but I pulled it off. In six hours, I got a lot accomplished. In the midst of it, I had to remind myself that it would be worth it in the long run. And it was or it will be.
Here's what I did last week before I left town:

I made a plan.
Included in my cookbook are some great planning pages to help you plot a plan for your cooking session. I photocopied those on which to jot down notes and figure out a grocery list as well as a cooking plan.
I chose meals that I know my kids like and that would be easy for anyone to reheat. I also included a fair number of things to grill. My original plan looked something like this:
Marinated Chicken and Pork Tenderloin
Lasagna
Red Sauce with Sausage
Frozen Burritos
Lawnmower Taco
Queso Fundido
Chile Verde Enchiladas
Vanilla Maple Granola
Cranberry Bread
Double Chocolate Toffee Cookies
Pumpkin Bread
Instant Oatmeal Packets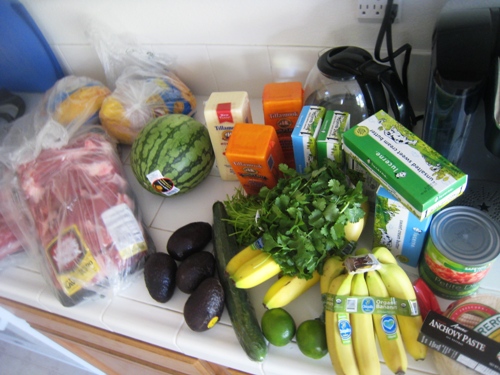 Went Shopping
I decided that despite the sales I was not going to traipse around to a lot of stores, especially prior to a big trip. Before my cooking day, I had already made stops at two stores, so I made do with what was available at Costco and Vons.
That meant that I had to switch my plan a little bit mainstream. I bought pork strips instead of chuck roast due to pricing at Vons. I omitted the tenderloin from the plan altogether since Costco didn't have any.
You can see the details of my shopping and how the costs broke down over here.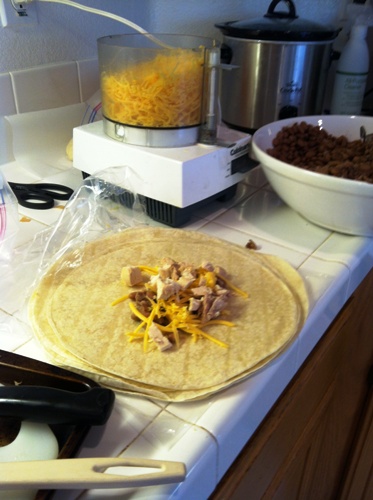 Started Cooking
I did a double batch of granola the night before my big cooking session, and got a chicken and beans cooking in the morning. I didn't actually start my big cooking until the afternoon — after I took a nap!
Once I did start, I just kept pushing. Yes, there were interruptions: kids fought or needed something, the dishwasher repair man came, and you name it. But, I knew that I was committed once I had purchased the groceries. My refrigerator was bursting at the seams. Since I like to see bare shelves in my fridge, that was the motivation I needed to push through.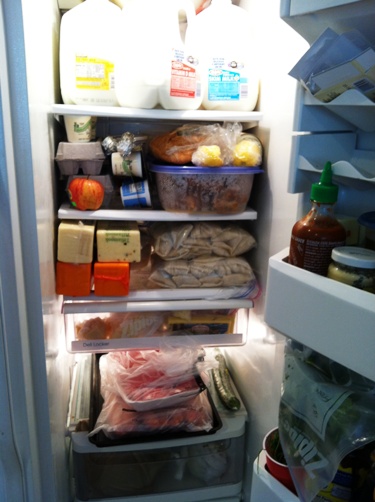 When I've got cold stuff that needs to be used, my heart can't rest until it is ready for the freezer.
Cooking went something like this:
Start the red sauce and sausage.
Season and cool the Homemade Pinto Beans.
Bone and chop the chicken.
Shred cheeses.
Roll burritos and chill in the refrigerator.
Cook the ground beef.
Assemble the Lawnmower Tacos.
Shred the pork.
Fry the tortillas.
Assemble the Chile Verde Enchiladas.
Wash dishes.
Cook one pan of Lawnmower Taco and take a dinner break.
Cook the sausage.
Assemble the Queso Fundido.
Wash dishes.
Go to a hockey game.
Make the Cranberry Bread.
Make the cookies.
Wash more dishes.
Go to bed.
As you can see a few things like lasagna and marinated meats didn't happen. I opted out of those for a number of reasons. Here's what six hours of cooking did produce:
The other items would have taken only a little more time and a little more push. But, I decided: enough is as good as a feast.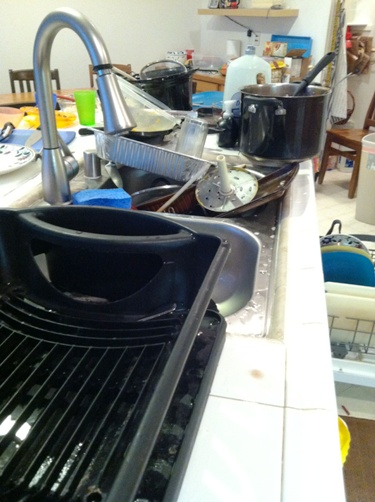 Cleaned Up
Yes, my kitchen was a wreck, but I had at least 20 meals accounted for! Whoohoo!
Since I did some major dejunking a few months ago, I had fewer cooking pots and utensils than I have used in the past. This turned out to be a blessing in disguise. While I certainly had to stop and wash dishes more often, I didn't have the massive accumulation of dishes that I have in previous cooking sessions.
Regardless of the mess, as a Facebook reader pointed out, "One day of hard work, and a huge mess for several days of easy meals….." Yes, my sentiments exactly. While our nights won't be completely dish-free, we should be free of dirty pots and pans for the most part.
Have you done any freezer cooking lately?

Curious about freezer cooking? Consider purchasing my cookbook, Not Your Mother's Make-Ahead and Freeze Cookbook from Amazon, Barnes and Noble, or your local bookstore. It's chock full with over 200 freezer-friendly recipes, planning pages, shopping lists, cooking plans, and basic and advanced how-to's to making freezer cooking work for any home, family, and lifestyle.