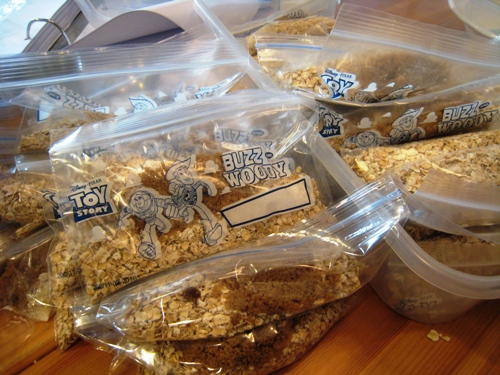 I mentioned on Friday that Instant Oatmeal Packets are a must have around here. My little people love this mixture of oats, dried milk, and brown sugar. This round when I made them, I put them in these cute decorated snack bags that my mom had brought. In a kid's eyes, that totally livened up breakfast.
Think about it! Half the time they pick a cereal based on the packaging anyway. Major score here. Try it if you've got a reluctant eater at your house.
Other things in my frozen assets:
Lots of soup – individually portioned for quick lunches
Torta filling – a Mexican sandwich
Vegetable stew
Seasoned lentils
Several egg dishes
A rocking Broccoli Gratin
And this weekend I added:
What have you cooked up to freeze?
Share your cooking progress in the linky or the comments below.

Remember: In July, an "Eat from the Pantry/Freezer/Garden" Challenge.