Freezer Cooking Daze: Back to School
We are a participant in the Amazon Services LLC Associates Program, an affiliate advertising program designed to provide a means for us to earn fees by linking to Amazon.com and affiliated sites. We participate in other affiliate programs as well. For more details, please see our disclosure policy.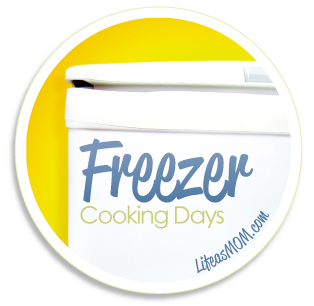 Ready to get your freezer cooking on? This weekend we'll be talking about what you can freeze and how to make it work for you during the busy school year. Personally, I've got a major brain freeze this week as I've been editing the Cookbook manuscript all week.
Can't wait to show you the book! It's got over 200 recipes, 100 of which that I've never shared with the public. As I was scrolling through the chapters this week, I had flashbacks of all these fantastic meals, snacks, and desserts we've enjoyed over the last year. Potatoes Stuffed with Dubliner Cheese and Caramelized Onions? Yummy! Caramel Key Lime Bars? They rocked it, major big time. And Mocha Hot Fudge Cakes? Totally. Stay tuned….
Back to School Freezer Cooking
It's time for school. By this time next week I think everyone will be back in the swing of things and the busy days of fall will be upon us. Since I am raising a bunch of hobbits, mealtimes are quite important around our house. But, if I'm going to survive teaching five grades AND feeding my family "nutritious and delicious" foods, I have to have a plan. Have to!
Your circumstances may be different, but I'd hazard a guess that a plan for feeding your clan would come in handy at your house, too. Here are some ways to make freezer cooking work for you as school gets under way:

1. Breakfast
Your freezer can help you get that most important meal of the day on the table in record plan. Some of my favorites?
One of the new things I'm instituting, hopefully this weekend, is a drawer with smoothie fixings. My dad bought us a Magic Bullet years ago. It makes it so easy for my bigger kids to make their own smoothies. Rather than set out a smoothie bar, I want to put together a smoothie drawer with bags of frozen fruit ready for the taking. I buy whey protein for my man-child to make smoothies for himself and this way he'll be able to add whatever he wants whenever he wants for custom breakfast smoothies.
2. Lunch
While I don't typically have a lot of brownbag items in the freezer, I do like to have the snacks covered. I bake up big batches of different items and package them so I can easily grab them for FishPapa's lunches. While I don't send my kids off everyday with a packed lunch, I do send my sweetie things like:
3. Dinner
We are entering a new era at our house as we work more extra-curricular activities into the fold of our day, like swimming, piano lessons, and hockey. I want to have quick dinners so I don't spend half the evening trying to get food on the table.
My Cooking Plan
Those who know me in real life will nod their heads in agreement when I say that I can tend to develop some rather ambitious plans. Some, if they were honest, would call my efforts a little foolhardy. I tend to bit off more than I can chew. And so it is with my recent freezer cooking plan.
This is only a partial list, as I added more to it after the picture! Oy!
corn to freezer
blanch green beans
bag mozzarella cheese
chop bell peppers and freeze
cook ground beef/make meatballs
freeze bananas for smoothies
make baked oatmeal and freeze
zucchini bread
zucchini cupcakes
decorate cupcakes
soak beans
carnitas in crockpot
instant oatmeal
pumpkin muffins
make stew in bags
pesto
Um, yeah. And I added to it. AndI planned this all on my daughter's birthday! If you didn't think I was nuts before, you should now. Come back on Monday to find out…the rest of the story.
In the meantime, share your cooking plan with us in the comments section. Tomorrow, I have a great guest post coming from Once a Month Mom as well as a Freezer Cooking Q&A.
May your freezer work hard for you this school year!