December can be a FULL month. Make it easy on yourself by filling your freezer with meals to help you during the dinnertime rush.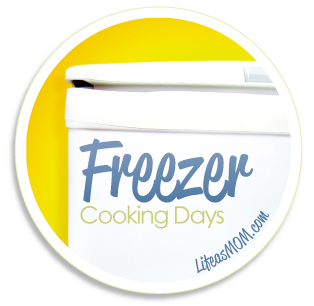 Now is the perfect time to load up your freezer with some ready-to-go meals. Anytime is a perfect time, but December is especially chaotic with all the extra festivities that we cram into our schedules at the year's end. And an hour or two in the kitchen — or even a full day, if you can swing it — can do wonders for your dinnertimes this month.
Last weekend I spent some going through what I had on hand, running through Costco for a few staples, and then did some quick cooking. I actually did it all in a few short sprints that I started on Sunday and have peppered my week. I've just had so much going on, that it worked best to spread it out throughout the week.
The Plan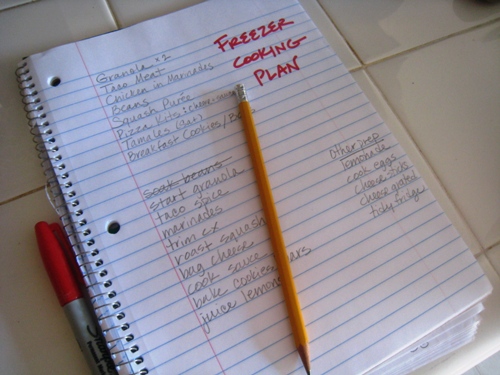 Here's the literal snapshot of my cooking plan and how I've bought myself some time this month.
Granola – Oats, Sugar, and Spices combined into a double batch of Cranberry Orange Granola. I didn't have oranges, but I had some lemons fresh from my dad's tree which worked just as well.
Taco Meat – I took spices from the cupboard and mixed up a big batch of Taco Seasoning. Then, I cooked up a big pot (3 pounds' worth) of seasoned taco meat and divided it into meal sized portions for tacos, burritos, and chili throughout the month.
Marinated Chicken – Chicken was on sale at a local store, so I bought a ton. Or close to. I mixed up these different marinades and bagged meal-sized portions in the marinade for quick stirfries and grilled meals later.
Seasoned Pinto Beans – I read an article about the badness (is that a word?) of BPA in our canned foods, and was reminded how EASY it is to cook my own beans. So, I set pintos to soak and cooked them overnight for Seasoned Pinto Beans. We'll enjoy these in burritos, taco bowls, and chili this month.
Butternut Squash Puree – I had a huge butternut squash from a produce box from earlier in November that needed to be used up. I peeled and cubed it, drizzled it with olive oil and seasoned it with salt and pepper. It roasted in the oven while I worked on other things. I pureed it to sneak into other things and froze them in 1-cup containers.
Thankfully, I tasted it before I'd pureed it all. It was so yummy just cubed! So, I added it to my salad with a bunch of other yummy things, like bleu cheese and pomegranate arils that night. It was amazing! That butternut squash's big brother arrived this week, so I'll be doing a repeat again soon.
Homemade Pizza – Pizza Kits are an easy way to pull homemade pizza together in a flash. I cooked up a big pot of sauce and divvied up five pounds of shredded mozzarella so that I just need to pull out a bag of sauce and a bag of cheese come pizza night. (There's already a stockpile of pepperoni in the freezer from a recent sale, so we're good.)
Tamales – Tamales are on the list for today. We've got friends in town to help make them. (Not sure if that was their plan, but it is mine!) Tamales are a regular thing at our house during December. I'll freeze a bunch of them and we'll enjoy them for snacks as well as on Christmas Eve.
I didn't get to the Breakfast Cookies, but we're planning a big baking brouhaha in the next week or two where I will attempt to allow my children more freedom in the kitchen, whether or not we get a dozen kinds of cookies prepared.
How did YOUR freezer cooking go?
Are you a regular in filling your freezer? Just starting out? Wondering why you would want to anyway? Tell us in the comments.

Curious about freezer cooking? Consider purchasing my cookbook, Not Your Mother's Make-Ahead and Freeze Cookbook from Amazon, Barnes and Noble, or your local bookstore. It's chock full with over 200 freezer-friendly recipes, planning pages, shopping lists, cooking plans, and basic and advanced how-to's to making freezer cooking work for any home, family, and lifestyle.