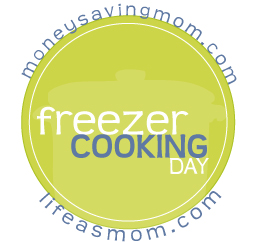 Have you been freezer cooking this weekend? Wish you could figure it out? Want to jump right in? There's never a better time than the present!
Freezer cooking can save you time, money, and an overload of processed food. It's a way to plan ahead for the coming weeks and make things a little easier on yourself.
This week as I assessed the contents of my deep freeze, I found a lot of bread and a lot of dinners.
Over the last month or so when I've bought meat or chicken on sale, I've mixed up quick marinades and tossed the cuts in freezer bags with the sauces. I've built quite the stockpile in there in addition to meals from the last few freezer cooking days. So I didn't need to do a ton of dinner prep this time around.
Instead, I opted to tackle a few beef dinner items to mix into the rotation as well as a number of breakfasts and lunch and snack items. Here's what I cooked up over the last few days.
Where's the Beef?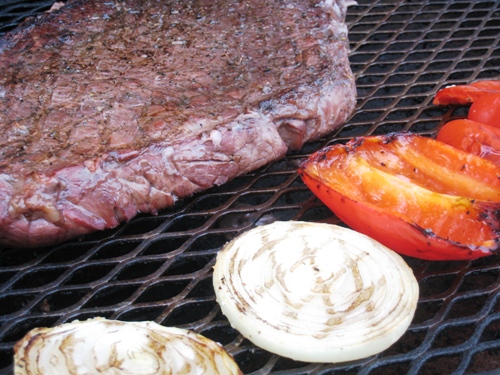 First I did a quick round of beef dishes. I bought London Broil and ground beef for $1.99/pound. I mixed up marinades for the steaks which went quite quickly. Not more than ten minutes, tops. And I formed the four pounds of ground beef into hamburgers.
Four dinner components accomplished right there. We'll grill the steaks and serve them in gyros or as a main dish. Here's the recipe to the steak marinade.
Breaking the Fast
Last month's breakfast freezer cooking was immensely helpful to our mornings. So this round I've replenished the stock with
Brown bagging it
And since we've started packing lunches I wanted to have enough snacks and goodies for lunchtime as well as our after school "happy hour." I added these to the pantry and freezer:
Coconut Banana Bread with Chocolate
My freezer cooking daze wasn't characterized by the Crazy Woman Status of months gone by. I did these big batches of things over the course of the last few days instead of trying to cram it all into one day. That seemed to work well, doing it in little minutes this month. And I think we're so much the better for it.
We have plenty of good homemade dishes to keep us fat and happy, anyway.
Did you do any freezer cooking?
How did it go for you? Pop over to Money Saving Mom and see what good things she's got cooking over there. She's a clever one, that girl.

Curious about freezer cooking? Consider purchasing my cookbook, Not Your Mother's Make-Ahead and Freeze Cookbook from Amazon, Barnes and Noble, or your local bookstore. It's chock full with over 200 freezer-friendly recipes, planning pages, shopping lists, cooking plans, and basic and advanced how-to's to making freezer cooking work for any home, family, and lifestyle.