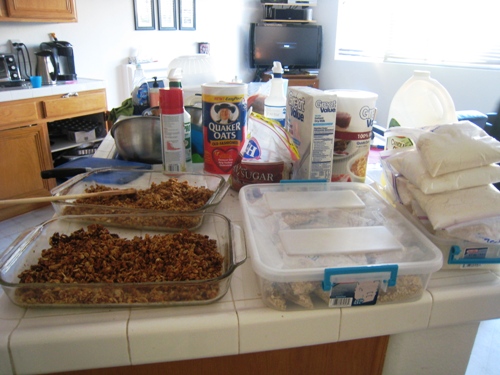 I used to think that I had to do a big grocery trip in order to do batch cooking. I learned differently recently. On Friday I shared my recent cooking plan. To prep a variety of foods to store in the freezer was the goal, but I was going to do it without grocery shopping.
My pantry had these items:
dried beans
a #10 can of tomato puree
rolled oats
flour and other baking ingredients
And in the fridge I had five pounds of ground beef that I had bought on sale. I was amazed at what I found in my pantry that could morph into freezer meals! 
This is a picture of some of what I pulled together. Somehow I lost the pictures of the rest. In the end I had:
20 hamburger patties that will serve for 2-3 dinners.
Truly, I am flabbergasted over the benefits of a well-stocked pantry. I spent less than three hours putting these meal components together and felt ready to take on quite a few meals. Now, if only I could figure out how to keep up with the appetite's of six growing children.
How did YOUR freezer cooking go?