This giveaway is now closed. Congrats to Vicki R., Heather Mullins, and Kelleen Potter!
When Crystal and I were soaking up the sunshine last month and talking up a storm about all things family, fun, and frugality, we thought it would be a great bonus to Freezer Cooking Days if we were able to offer a giveaway to help moms and other home managers in their meal planning efforts. We put out a call to three favorite bloggers who we knew had great resources for feeding the family. We were so pleased when they said yes.
This weekend we've got three very cool prizes to giveaway: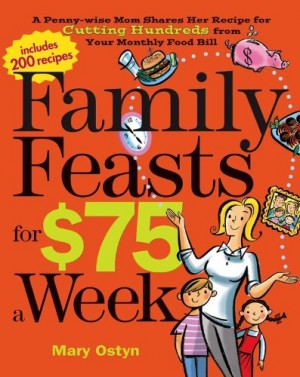 Family Feasts for $75 a Week by Mary Ostyn, a mom of 10 and home manager extraordinaire, is an excellent primer for learning how to eat well on a budget. Earlier this week, Mary shared some of her tips for "once a month cooking." You can read my full review of her book or visit her blog, Owlhaven for more helpful hints, but I promise you won't be disappointed with this book. And one winner will win a copy of Family Feasts for $75 a Week!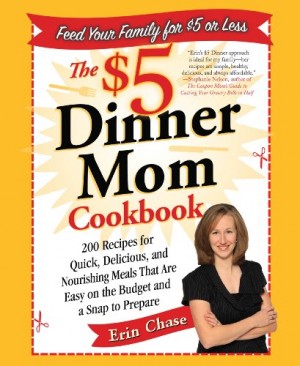 Erin Chase, mother of three small boys, got a brilliant brainstorm about 18 months ago, prompting her to challenge herself to make no meal over $5 for her family. The end result? A popular blog and a cookbook chronicling that journey as well. Erin walks you through a number of strategies to help you lower the cost of your groceries at the same time as produce delicious and nourishing meals. She shared some of her freezer cooking tricks just the other day. I recently received a review copy and am eager to dig into it. Be watching for my review in the very near future. Another winner will win a copy of The $5 Dinner Mom Cookbook this week!

Stolen Moments Menu Planning is the brainchild of Kate Miller from A Simple Walk and Cooking During Stolen Moments. A mother to four young children, Kate knows firsthand how busy-ness can get in the way of homecooked meals. That's where her meal planning service comes in to help the busy family. Subscribers to her email meal planning service receive menu plans tailored to their families' likes and dislikes. Meal planning is a great way to save time, money, and energy, and it can work into freezer cooking quite nicely. A third winner will receive a one-year subscription to the Basic Plan.
Three prizes – three winners. And one of them could be you!
This giveaway will be open until Tuesday, February 2nd at 8 pm, PST. Winners will be chosen at random. To enter, simply leave a comment on this post, telling us your opinion about freezer cooking.