Freezer Cooking: Noontime Update
We are a participant in the Amazon Services LLC Associates Program, an affiliate advertising program designed to provide a means for us to earn fees by linking to Amazon.com and affiliated sites. We participate in other affiliate programs as well. For more details, please see our disclosure policy.
My big morning of freezer cooking has gone off with fits and starts. I haven't made as much progress as I hoped. But, you knew that would happen, didn't you?
A few things to report:
Don't EVER try to cook a turkey on a rimmed cookie sheet. I almost attempted it because I couldn't find my roasting pan. However, wisdom prevailed — not sure where it came from! I tried to pull the turkey out of the oven after about a minute because I was having second thoughts. The bird was still cold, but the pan wasn't. There is no way on this earth that I could have done it with a hot bird. It was just too heavy! I'm thankful for my brother who was willing to jet to the store and buy me one before he left for class. He came back with two! Luckily, one fits inside this Holly Hobbie oven we have.
FishBaby has the sniffles. Could throw a major wrench in this plan. Thankful for naptime.
Big brothers enjoy tormenting their little sisters. I'm not sure I appreciate this dynamic.
20 pounds of beef roast does not fit into two crockpots. We're cooking beef in shifts today. Second batch should be done in about 4 hours.
Food processors are a gift from the Lord.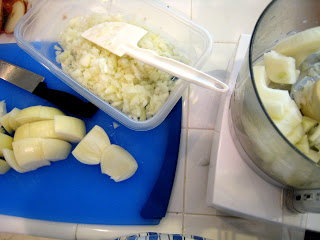 I love my Cuisinart. It's on its last legs – the handle is broken off, the plunger is missing. But, that didn't stop me from putting it to good use to chop 10 cups of onions, 2 cups on mushrooms, and a mess of carrots. Just throw the chunks in and pulse until the consistency you want. Later it will do pie crust duty.
What have I accomplished? Not really sure. But, 10 pounds of beef (about 9 cups) is cooked, shredded, and packaged, 10 more pounds are cooking. Beef ragu is cooking, as is a ginormous pot of red sauce. 16 pound turkey is resting on the counter ready to be carved. A sink full of dishes is awaiting me.
Will you laugh at me if I don't get all my list done by tomorrow night?