Freezer Cooking: November
We are a participant in the Amazon Services LLC Associates Program, an affiliate advertising program designed to provide a means for us to earn fees by linking to Amazon.com and affiliated sites. We participate in other affiliate programs as well. For more details, please see our disclosure policy.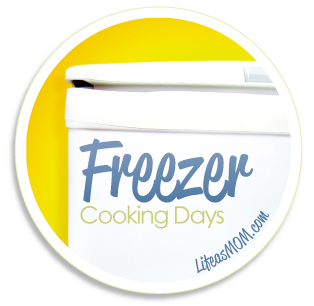 Freezer cooking has been a way of life for me for quite some time. My friend Jessika and I first tackled "once a month cooking" when I was 8 months pregnant with the first FishKid almost fifteen years ago.
Yeah, I'm old.
And there were seasons in my early years of motherhood when it wasn't really a habit. I might do a cooking session one month and wait six months before I did another. Now it's a way of life.
For the last few months, I've used shorter, power cooking sessions to get the job done. But, now that the busier fall days are upon us, I realized last weekend that I just needed to suck it up and do a Big Un. I planned the entire month's worth of breakfasts, lunches, and dinners, and then I set to work to make ahead as much as I could.
If I'm going to keep up with all that's on my plate, I want dinnertime to be easy, tasty, and budget-friendly. "Make ahead and freeze" is my answer to that.
veggie patties from the freezer – yum!
The Plan
I went into this month's cooking session knowing that most of the dinners I'd planned for the month would more than likely be cooked the day of or taken from my existing freezer stash. I already have marinated chicken and tri-tip stashed in the freezer and enough red sauce to feed a small nation. All the suppers on November's meal plan feature the crockpot, the grill, the pasta pot, or the pizza pan. Easy, right?
So, I wasn't as worried about dinner as I was the rest of the day. I planned a breakfast bar as well as a regular lunch rotation. These are very flexible meals that can be varied based on the seasonal fruits and vegetables that we work into the mix.
Since dinners were already done, I focused on a freezer cooking plan to handle breakfast and lunch. Here it is:
November Freezer Cooking Plan

Artisan Bread in 5 Minutes bread dough (stored in the fridge)

cooked and frozen Pancakes

Waffle Mix

cooked and frozen waffles

Cinnamon Crumb Coffeecake Mix (recipe coming)
Let's Get Cooking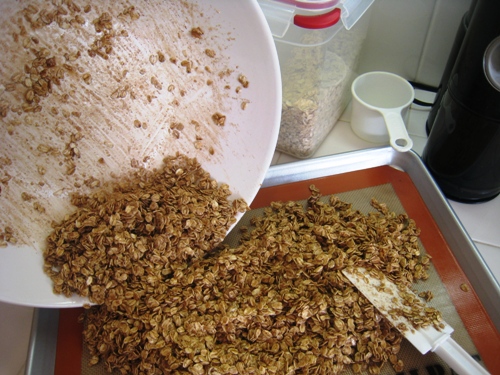 I spent about three or four hours puttering in my kitchen last weekend. FishChick3 was up before the sun. Therefore, I was as well. So, I started on a batch of granola. This recipe is a surefire way to get your house smelling divine. It also makes a great gift.
And can I just take a moment to say a word about this new pan? It rocks! I bought a boxed set (half-sheet with lid, rack, and quarter-sheet) at Costco and I love them. The half-sheet holds my silpat mat just perfectly. I'm going back for more. No more warps-and-wiggles-in-the-oven-kind-of-pans for me!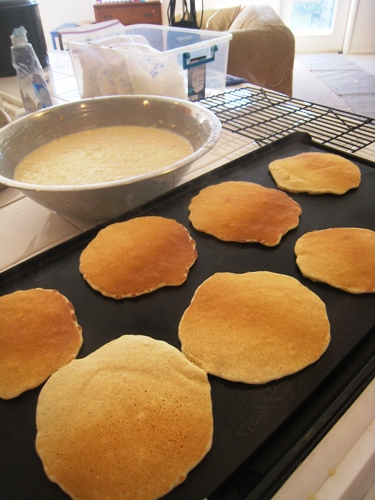 Then, I assembled the pancake mixes and prepped a double batch to cook for breakfast. Whoever was awake before the pancakes were all cooked and cooled enjoyed pancakes for breakfast. I wrapped the cooled pancakes in stacks of eight in plastic wrap and then placed the stacks in a gallon size freezer bag. While they aren't as tasty as freshly baked, they will make for quick breakfasts on school days.
I moved on to the waffles and did the same thing. Whoever was awake before I stashed the waffles, had waffles for breakfast. You see a trend here?
Ditto with the granola. Hubs awoke in time to eat warm granola while it cooled on the countertop. I had to hurry to have something to store!
Then I worked on the rest of the mixes until I ran out of sugar. Hit pause until I can run to the store.
Later that day I finished off the baking mixes and assigned jobs to my able-bodied children. FishBoy9 stirred the bread dough while FishBoy10 sorted the beans.
Once the bread dough was done with its first rising, I stashed that in the fridge.
The beans soaked overnight and cooked the next day in the crockpot. Beans are rather independent creatures. They don't need much fuss.
Once they were done, I quickly assembled two dozen burritos, portioned out the rest of the beans in freezer containers, and called it quits. This really does not take much time at all, especially if you buy the cheese pregrated or use a food processor. These were bean and cheese burritos making them super quick to fix. Watch the video if you're not sure how to fold a burrito.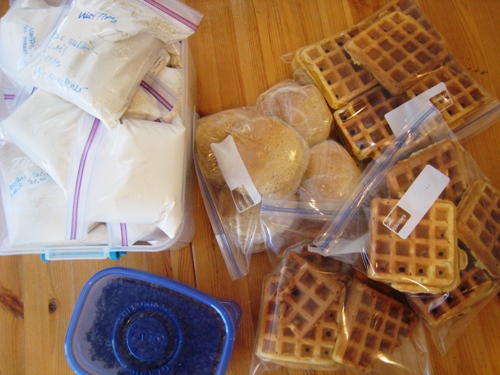 Breakfast and a few lunches are handled for the next month! (See our meal plan if you don't believe me.) Here are some of our goods for the next month. I'll supplement them with fresh fruit, hard cooked eggs, yogurt and the link. Head here to read about our breakfast bar.
Going forward, I'll be looking at this month's sales with a mind toward December's freezer cooking. Basically, I'm planning, buying, and cooking a month in advance. Our November meal plan is set, so as sales come through this month, I'll be thinking toward what to do with those items next month.
Freezer Cooking Day
Freezer Cooking Day is evolving once again. I'll be posting on the first Saturday of each month, specifically about freezer cooking. Join me and share your freezer cooking adventures, link up your own freezer cooking post or recipe, ask questions in the comments section, and otherwise share with us what works well for you and your family to have homecooked meals without a ton of work.
The Cookbook is entering some of the final stages of production. I've got another round of edits later this month. I'm so excited to share it with you! There are over 100 new recipes that you've never seen. And I'm almost afraid to tease you with them since it will still be a short while before you can go buy the book. I hope you will! I think you're gonna love it!
Well, that's all I got. I can't wait to see how you're using freezer cooking to help your "life as mom."

Curious about freezer cooking? Consider purchasing my cookbook, Not Your Mother's Make-Ahead and Freeze Cookbook from Amazon, Barnes and Noble, or your local bookstore. It's chock full with over 200 freezer-friendly recipes, planning pages, shopping lists, cooking plans, and basic and advanced how-to's to making freezer cooking work for any home, family, and lifestyle.