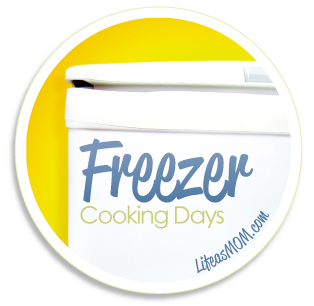 Each month I spend a few hours (or a few days) cooking big batches of our favorite recipes in order to save me time later in the month.
This "make-ahead and freeze" habit has become a way of life. I make a bulk batch of pasta sauce one month. And I make bulk batches of enchiladas a few weeks later. Since we don't typically use everything up in one month's time, eventually I've got a great variety to choose from.
There's a constant rotation in our freezer of great tasting meals or meal components. And I get a break from cooking several nights a week.
I've condensed a vast amount of the freezer cooking portion of my brain into my cookbook, Not Your Mother's Make-Ahead and Freeze Cookbook. I laughed when a Facebook reader referred to it as, the book "that anyone who is anyone has already preordered." Thank you, thank you.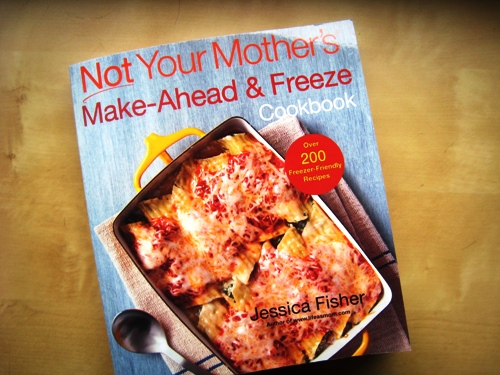 It's a pretty cool thing, if I do say so myself. Suffice it to say, freezer cooking is one of my favorite tools for eating well and spending less.
How we eat is changing.
Now that I get a weekly produce box, our eating habits have changed significantly. For one thing, we're eating more fresh fruits and vegetables than we were previously. The meals that I prepare are also different; they tend to work themselves around whatever produce is in the box that week.
As a result, my freezer cooking varies from month the month as well. We're eating more fresh produce, but that doesn't mean I neglect my freezer. No, no, no. There are plenty of ways to make freezer cooking work for you.
For one thing, I try to process the excess produce for freezing. We didn't get sick of corn on the cob in August because I blanched and froze it to eat later in the winter. We didn't gorge ourselves on apriums last month; instead I made a batch of jam to enjoy in the coming months. That bounty of eggplant, tomatoes, and zucchini went into batches and batches of ratatouille and soups to enjoy long after summer had faded into fall. Apples? Applesauce and pies. You name it, it can be done.
We eat as much as we want fresh and then find a way to make it ahead and freeze.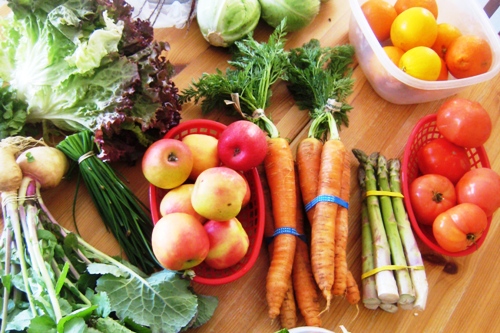 Variety of good eats x 3
One of the great things about stashing meals and meal components away in the freezer is that it can serve for every meal of the day. Breakfast, lunch, and dinner items all do well in the freezer, giving you a boon of handy helpers anytime of day.
Plus, it's always changing. Currently, our freezer holds quite a few meals, especially proteins, from previous cooking sessions or shopping trips. I don't feel like there's a lot that I need to buy in terms of dinners. Between the stockpile of chicken, beef, and sausage in the freezer as well as a supply of potatoes, rice, and quinoa in the pantry, dinner times can be quick and easy affairs, especially with a bounty of fresh produce to round it out.
Now, breakfast? Well, that's another story.
A breakfast freezer cooking session has been long overdo. Because my people like to eat when they wake in the morning. Imagine that.
My husband and children would be ecstatic if I served boxed cold cereal every morning. Once upon a time, I could do this with coupons and sales for uber-cheap. Imagine waking up to this each morning.
However, times have changed. I'm trying to move our diet more toward whole/real food. And the grocery sales and coupons are just not what they used to be. At least not in California.
I currently can get Joe's O's at Trader Joe's for $2/box. But, add a gallon of milk and breakfast becomes a pricey affair, not to mention that the demand is impossible to keep up with. Do you know how much cereal and milk 7 people can go through?! I don't eat it so that there's more for them.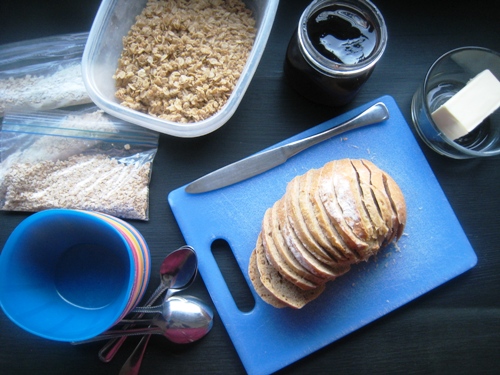 Alternative (read: cheaper) breakfast meals for my family include
Many of these items* can be made ahead and frozen. Yeah! And if I set it up as a breakfast bar, it's even easier for each kid to make his own breakfast.
So, this month's freezer cooking session was designed to get our breakfasts up to speed. If you follow me on Facebook, then you probably got a peek at all that went on here yesterday morning, as I shared updates of what went down during my 3-hour power cooking session.
Here's the plan as it looked before I started: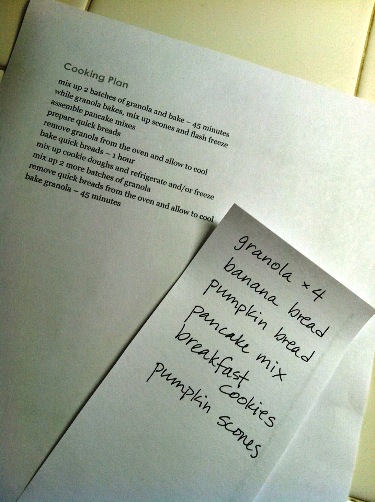 I know from experience that my cooking session will go better if I have a plan. I'm better able to plan for contingencies and be most efficient with my time if I walk through my cooking steps first. I based my list on what I knew we already had in the cupboards, however I underestimated how far my sugar would go and ran out before I was done. Sigh….
No worries, though, the grandparents are coming down this weekend which means there will be more time to spend in the kitchen chatting and baking. My 8-year old has mastered the art of flipping pancakes and wants to show off. So, the pancake mix will get made this weekend.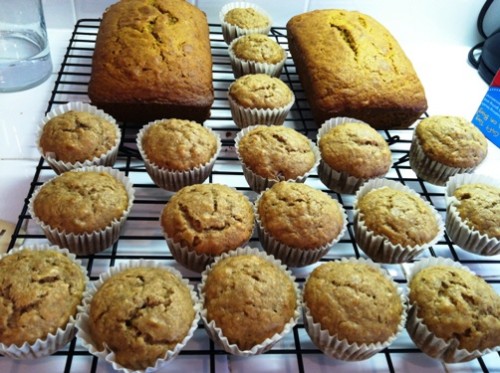 I ended up making these items for the freezer (items with an asterisk are in the Cookbook):
Coconut Granola
Butterscotch Granola
Jam and Cream Scones*(2 dozen)
Vanilla Maple Oat Scones (2 dozen)
Cinnamon Banana Bread*(1 loaf, plus 24 mini breads)
Spiced Pumpkin Bread (2 loaves)
Not bad for three hours' work. The time was rife with interruptions, so next time I'll wake up earlier and try to get more done before the household starts to stir. Regardless, I feel a little more prepared to take on the daze.
How about you?
Done any freezer cooking lately? Got any questions? Let us know in the comments section.