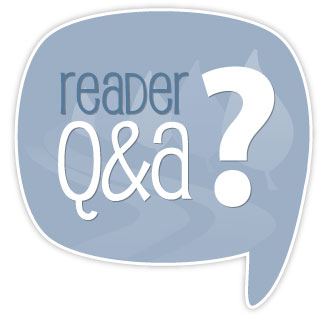 One new feature of freezer cooking days is a Q&A from readers. Sometimes I receive questions that I can answer and sometimes I receive questions that I know there are more than one answer to. So, each month we'll look at a question together and try to help each other out.
This month's question is from a new mom who wants to get started in freezer cooking. I can totally relate! I was 8 months pregnant the first time my friend Jessika and I tackled this kind of cooking. It was so nice in that last month of pregnancy to be able to put up my swollen feet and not worry about making dinner.
Here's Jennifer's question:
I am due April 5th with my first child. And I have no clue what to expect!! 🙂 Ok I expect to be really tired and I've been told I'll be lucky to be able to chop an onion. LOL.

I would like to set some meals aside for that time. However, I have yet to get into the swing of freezer cooking. When should I start? How many meals do you recommend setting aside for the post pregnancy period? What kind?

Casseroles sound easiest, but I'd love other recommendations. Does soup freeze well? How does fish do in soup? What else should I expect? Any advice would be great.

— Jennifer
Well, first I would suggest starting small. Consider meals that you know you and your husband love and make some double batches. Eat one and freeze the other. This is one of the simplest ways to stock your freezer. And there are many foods that do well in the freezer. Consider these ideas for developing a freezer cooking plan.
Next, I would look at preparing meal components. Rather than whole meals, I'd think about taco meat, cooked beans, shredded chicken, and other items that can go in a number of meals.
Not only do meal components thaw much more quickly than entire casseroles, but they give you tons of flexibility when it comes to meal preparation. Precooked meats can top salads, fill sandwiches, stretch soup, or mix into pasta dishes. Having the protein already cooked makes for very easy meals without a lot of work.
Soups do freeze well. My favorite is Cheese Soup. Since you may find yourself hungry a lot during those early weeks, it would be great for you to pull out a meal size portion to nuke in the microwave or reheat in a pan. Make a big batch of your favorite soup and divide it into two-cup portions.
As for fish…. we buy fish from the fish counter and often store it in the freezer. But, I rarely precook it. I think it's too delicate and prefer to avoid any fishy flavors.
Well, there's my two cents. But, I know LifeasMOM readers have more thoughts and ideas.
How would YOU advise Jennifer?
What advice do you have for an expectant mom and freezer cooking newbie wanting to prepare freezer meals for the postpartum period?

Curious about freezer cooking? Consider purchasing my cookbook, Not Your Mother's Make-Ahead and Freeze Cookbook from Amazon, Barnes and Noble, or your local bookstore. It's chock full with over 200 freezer-friendly recipes, planning pages, shopping lists, cooking plans, and basic and advanced how-to's to making freezer cooking work for any home, family, and lifestyle.