Freezer Cooking Results – November
We are a participant in the Amazon Services LLC Associates Program, an affiliate advertising program designed to provide a means for us to earn fees by linking to Amazon.com and affiliated sites. We participate in other affiliate programs as well. For more details, please see our disclosure policy.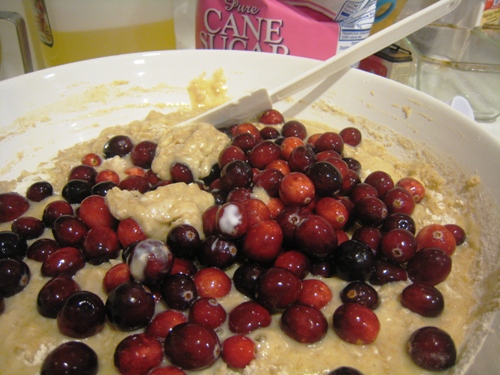 Did you get cooking this weekend? I did. The cranberry bread was fantastic. I'm so glad some made it to the freezer!
I actually did all kinds of experimenting in the kitchen. Probably not the best of ideas when you want to be efficient. I know we'll enjoy the meals later. But, still. Creativity does not breed quick work in the kitchen. Note to self: Next month make the tried and true. You'll move faster.
That said, the freezers (the deep freeze and the side-by-side) are packed to the gills right now. Here's what I made:
Dinners
Marinated Chicken Breast
Stuffed Chicken Breast
Meatballs
Meatloaf
Taco Meat
Cranberry Pork Chops
Stuffing and Chops
Breakfast
Cranberry Bread
Cranberry Orange Granola – burned this horribly because I tried cooking it on the bottom shelf of my oven while the cranberry bread cooked. Ended up dumping it. Blech!
I ran out of steam and didn't tackle the holiday dishes that I had originally planned nor the other breakfast items. But, I may do those later this week.
What did YOU cook up?
Share your freezer cooking progress below.

Curious about freezer cooking? Consider purchasing my cookbook, Not Your Mother's Make-Ahead and Freeze Cookbook from Amazon, Barnes and Noble, or your local bookstore. It's chock full with over 200 freezer-friendly recipes, planning pages, shopping lists, cooking plans, and basic and advanced how-to's to making freezer cooking work for any home, family, and lifestyle.