So, I got a head start on freezer cooking this weekend. I wasn't sure how it would play out, since we like to reserve weekends for family time. As it turned out – it rained. A lot. So most of our family time was home based. Great time to get some meals going.
Friday nights are usually pizza and movie night. FishPapa and I love the Jalapeno Burn Pizza. It's fairly easy to make, but I thought it would be even easier if I chopped enough onion and sliced enough jalapeno to last the entire month. A small thing, but one that will save me a good 10-15 minutes per week in the coming month. I bagged up enough cheese to cover pizza nights for March.
Since the refrigerator was packed full of boneless, skinless chicken breast, I mixed up the different marinades to go with Mustard Grilled Chicken, Asian Chicken, and a new freezer experiment with an old recipe, Chicken with Tomato and Feta Cheese Sauce.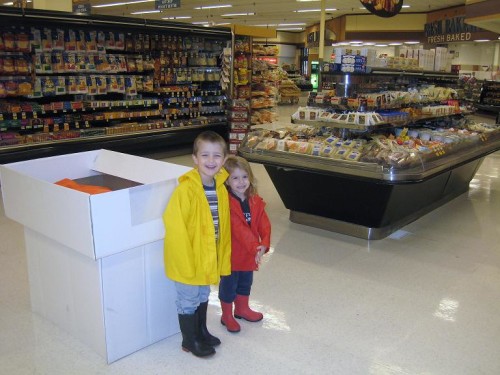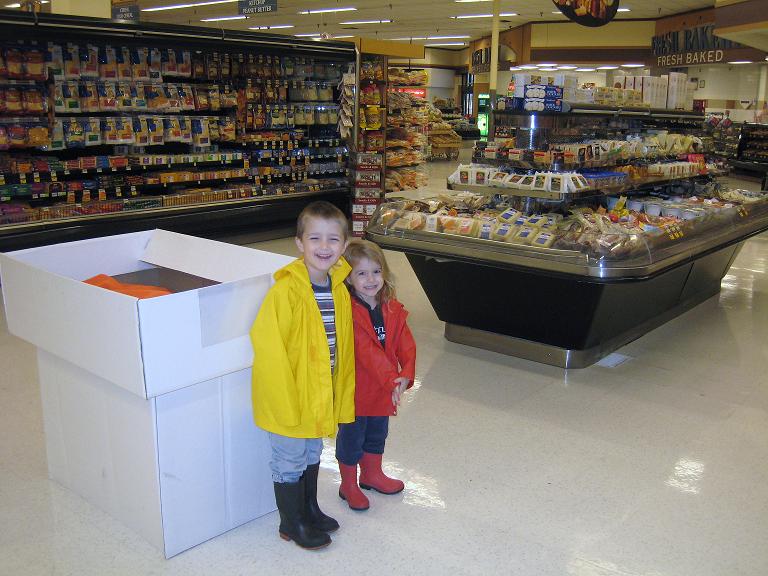 Saturday. The day was wet and cold. No big family outings for us. Except of course taking three children under six to the grocery store with me — alone — in the rain.
How's that for living a wild and crazy life?
FishBoy5 and FishChick3 and FishBaby were all awake and LOUD by 6:30, so it made sense to get out of the house and let the others sleep. Thank goodness the store was practically empty. We would have made quite the impression.
While we were there, I found the meats I needed for this month's meals, some even marked down. 85% lean beef for $1.49/pound? I'll take that. The sell by date was Saturday, so I had to get cooking. First I made a big pot of meatless red sauce. Once that was cooking, I set two pans of bone-in chicken breast in the oven to bake and filled my two large crockpots with more chicken breast. While that cooked, I marinated more chicken breast for my Chicken and Wild Rice Bake.
While FishPapa ran interference with the kids, I started to make meatballs, followed by Taco Meat, followed by tons of shredded chicken, followed by cooking more ground beef for the Lasagnas. At which point, my sweet husband took SIX KIDS to Sonic for Happy Hour (1/2 priced fountain drinks) and brought me back a large Vanilla Coke. Praise God for my Family Man! While they were gone, I started my freezer inventory sheet.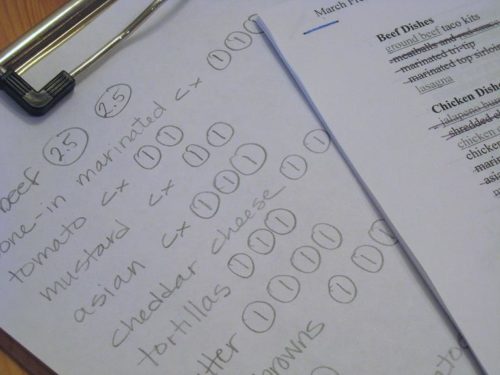 That Vanilla Coke was what I needed for the push to get the lasagnas and chicken enchiladas made. Needless to say, I was wiped out and we ordered Chinese Take-out for supper, rice from the rice cooker.
Sunday was a day of rest. One that I enjoyed immensely since I got 1/2 my list done on Saturday! For dinner we had Chicken Chili. I froze half.
Here's what I've got on ice:
3 dinners Chicken and Wild Rice Bake
2 dinners Tomato Chicken with Feta
2 dinners Mustard-Grilled Chicken
3 dinners Asian Chicken
8 dinners of tacos, burritos and chimichangas
2 marinated tri-tips
2 dinners Mediterranean-style Steak
7 dinners Meatless Tomato Sauce and 3 dinners Meatballs to go with
4 Jalapeno Burn Pizza Kits
3 Lasagnas
4 pans Chicken Enchiladas
Holy Freezer Meals, Batman! What was she thinking?
Honestly, I had no idea that all I bought would make 40 meals! I think we've got a few lunches covered, don't you? Monday will truly be a "baking day" as I'll be making:
Quiche Lorraine and individual Greek Egg Casseroles for MOM breakfasts and lunches
Stuffed Foccacia for lunches
granola (going to tweak this recipe from Ellie Krieger)
Are you cooking? How's it going?