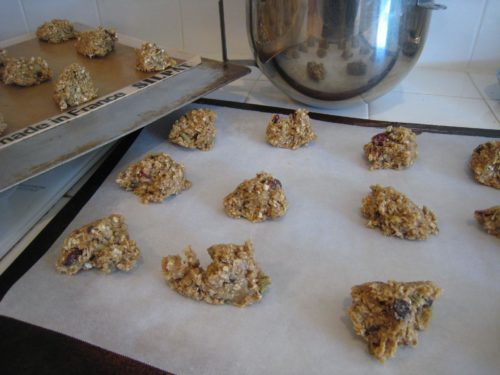 Normally, I try to leave the weekends open for "fun stuff" rather than housework. But, since we're homebound nursing colds, it seemed natural — and wise — to putter around and get some things accomplished. So, freezer cooking and homekeeping chores actually happened.
Saturday morning I whipped up a batch of Nutty Granola which turned out to be quite tasty. What makes me super pleased about this recipe is that it's made with "all-natural" ingredients: simply nuts, oats, maple syrup, salt, and cinnamon. Couldn't be easier. I would have made several batches but we were running low on maple syrup. Time to stock up.
I also experimented with my Trail Mix Cookie recipe, adding pepitas, sunflower seeds, and coconut oil. They were so tasty they don't even taste "healthy." I'm not sure what to think about that. Recipe to follow.
Shredding cheese for tacos and burritos is a chore I don't really love. But, I grated six pounds in my food processor, divided it into freezer bags and now the work is done for me for several meals. So easy. As long as the cheese is already grated, it freezes and thaws beautifully. I do not recommend freezing whole blocks of cheese. The thawed product can become very crumbly, which is fine if that is what you want. But, usually I don't.
And, though not on my original plan, I cooked up two pounds of pinto beans. Personally, I prefer canned beans, but the price has shot through the roof, and I refuse to pay it.
Last up: Crockpot Applesauce on Monday morning.
That's it for the weekend edition. How did you do?