Freezer Cooking Wrapped Up!
We are a participant in the Amazon Services LLC Associates Program, an affiliate advertising program designed to provide a means for us to earn fees by linking to Amazon.com and affiliated sites. We participate in other affiliate programs as well. For more details, please see our disclosure policy.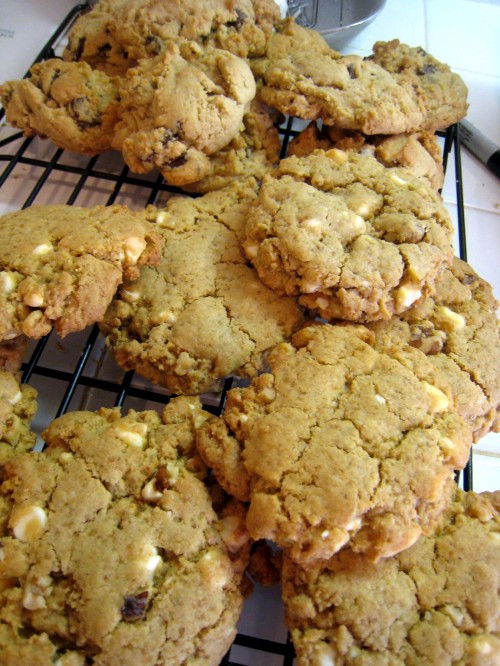 I can't tell you how exhausted I am. Today was much harder than Saturday, in part because FishPapa wasn't here to "ride herd" or to bring me that Vanilla Coke from Sonic in the waning afternoon. (And I SO wanted both of those things today). But, I got 'er done. My house is trashed, but my freezer is full. And I treated myself to a couple of Gramma John's Blue Ribbon Cookies. Only for one batch, I used white chocolate and walnuts. So yummy!
I probably attempted more in one day than was probably wise. But, as I told you last week, I've been spending 2-3 hours a day in the kitchen anyway. I'm hoping my full freezer will help me free the shackles that bind me. Over the weekend, I made dinners; today I made breakfasts and lunches:
3 Quiches Americaines (how's that for fancy? Just made it up – recipe to follow)
4 mini egg bakes
2 lunches Stuffed Foccacia
maple granola with lots of nuts and seeds
3 loaves Chocolate Chip Banana Bread
Breakfast Cookies – I omitted the honey which made them less sweet and a little crunchier
Pancake Mixes
Gramma John's Chocolate Chip Cookies
Chocolate-Nut Biscotti
Tomorrow around noonish, Crystal will be sharing her accomplishments and offer a chance for you to share yours. So don't forget to pop over and check out all the March Freezer Cooking Madness!
Did you cook up a storm lately? Do tell!