Hot? Sweaty? Ready to cool off? Well, today's the day to share your favorite summer recipes on Ultimate Recipe Swap.
Summer favorites usually lend themselves to being quick to prepare without heating up the kitchen. Often they are on the cooler side, like salads and chilled sandwiches. But BBQ, grilled meats, or even an easy crockpot chili, perfect summertime fare, certainly won't leave you out in the cold.
Our family loves to have smoothies. When you think about it, smoothies are to milkshakes what muffins are to cupcakes, eh? Mom's effort to healthify a treat that kids love.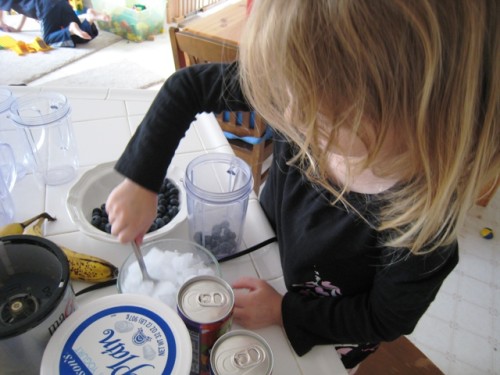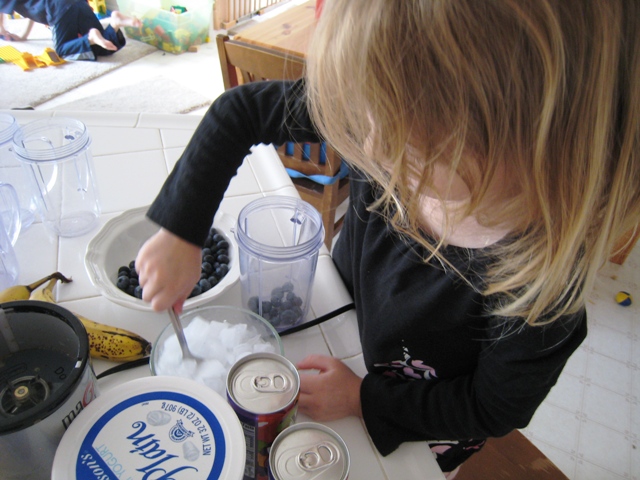 So Fun
First let the kids help. A DIY Smoothie Bar is a great way to enjoy summertime meals. Don't sigh too much about the drips on the counter. Being a "Yes Mom" really does feel good.
One thing that I recently tested was making smoothies ahead of time and freezing them. While blending a smoothie really doesn't take that long, I wanted a quick, cold snack to hand to the kids before I sent them outside. Freezer Smoothies are just the ticket!
I bought 2 dozen Ball freezer jars at Walmart for about $0.50 each. These are 8 ounce plastic cups with screw-on lids. They are specially designed for freezing, yet are also dishwasher and microwave safe.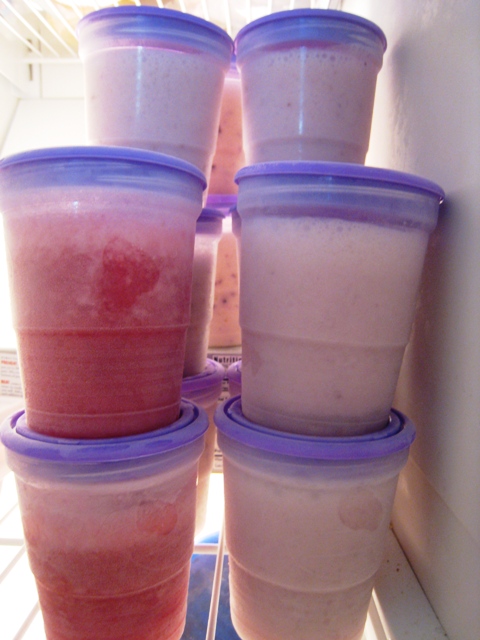 So Easy
I simply blended up several different smoothie mixtures and froze them. The kids can grab one and either let it thaw on the counter for a few minutes or nuke it for 20 seconds on half power for a perfect slushie consistency.
Within a week all two dozen were quickly consumed. We're ready for another round of smoothie making.
So Simple
Smoothie making can be really simple. Just blend different combinations of fruits, juices, and ice. To make dairy-based smoothies, try adding some yogurt and milk. I even used homemade fruit jam to flavor the latest batches of smoothies.
You'll find that different kids like different flavors and ingredients. Some of mine prefer just juice and berries. Others will enjoy all kinds of combinations. An old-time favorite of mine is The Red Banana.
Test out some of your favorites fruits and see what combinations you like best. And then keep your freezer stocked for all sorts of cool snacking this summer.
What's a Summer recipe you enjoy at your house?
Share it on Ultimate Recipe Swap! Here's how to participate in:
1. Post your recipe on your blog. Please mention www.lifeasMOM.com in your post so that your readers know where all the other good recipes are hanging out. Then, come back here to add the link to your post to Mr. Linky below. (Find instructions for Mr. Linky here.) OR
2. If you don't have a blog, simply post your recipe or tell us about it in the comments section.
3. Above all, please stick to topic. Most weeks there is a theme, this week is summer.
Have a story to go along with your recipe? We'd love to hear it!
Coming up next week: Fourth of July Recipes