The following content is sponsored by Hallmark: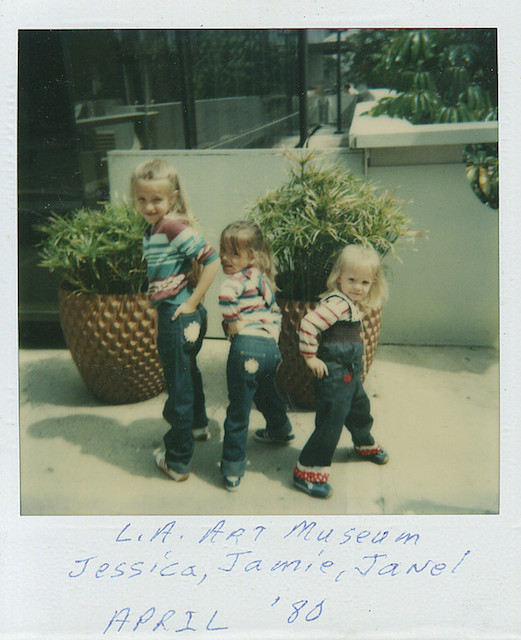 I didn't always think we were friends. Nope. We weren't in the same classes at school. We didn't share the same taste in music. We didn't even get along that well, despite the fact that we often dressed in coordinating outfits.
But, God knew better.
We fought, we argued, we stole each other's stuff. Well, honestly, I think I'm the one who did those things. I was not a very nice girl.
It took awhile to figure out that these pesky girls were okay kind of people. In my teens and twenties and maybe part of my thirties, I thought you had to agree on stuff to be friends. I thought that you needed to have common interests, like a job or kids the same age, in order to be really good friends.
While my sisters and I have certainly had overlapping interests over the years, we took pretty different paths. I homeschool and have a posse of children. Jamie, a manicurist, loves animals and has a great sense of style. Janel lives on the east coast while her husband finishes law school, volunteering at the public school where her two girls go to school.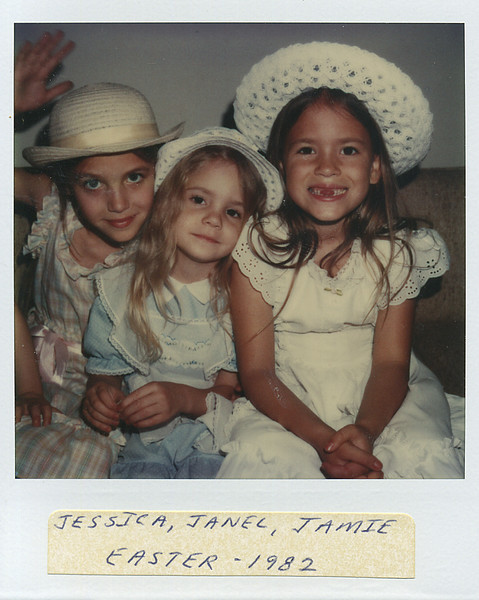 Over the last twenty years my sisters and I have been through a lot: three weddings, multiple miscarriages, infertility, eight babies. Janel and I each have moved cross-country and done a stint living far from home, leaving Jamie to wonder what would possess us to leave home in the first place.
My sisters are the lifelong friends that God gave me, even though I didn't know it for quite a long time.
Better late than never, I say.
My sisters were my only attendants in my wedding. I learned by the age of 21 that friendships are fickle. The girls I knew in grade school, junior high, high school, college? Our friendships had ebbed and flowed. There was drama. There were hurt feelings. There were misunderstandings and broken friendships. I was often the square peg in the crowd, not entirely fitting in or feeling "bien dans ma peau".
Despite our own internal drama, I knew my sisters would always be there for me. I wouldn't wonder someday what had become of that bridesmaid in the picture. My sisters were "for me" even if we didn't always get along.
In that time and space, I knew my sisters were my friends.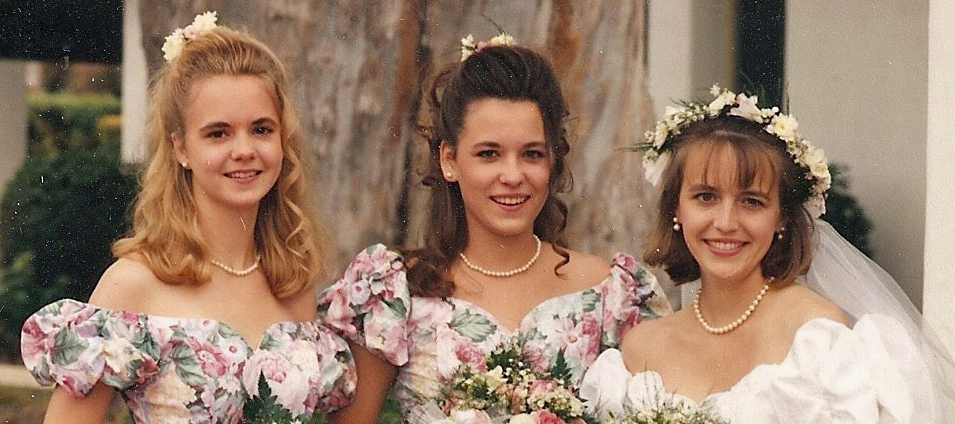 And also a lot taller than me.
My mom sets us a good example in this. She has three sisters. The aunts all live in Minnesota, my mom being the one to move far away. I know from the stories of their childhood that they weren't always "friends". But they are now.
They talk regularly. They send packages. They write cards. They will grow old together, laughing and loving each other.
I'm a total slacker in this department. Total. Slacker. My sisters, and my mother, for that matter, are lucky if they get a text, let alone a phone call! But, I'm working on it.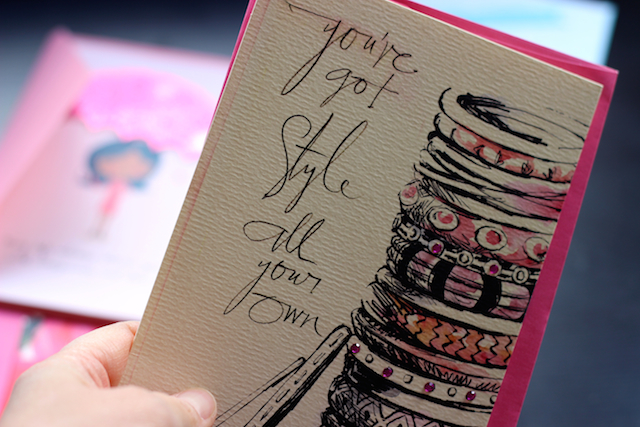 That's why I was thrilled when I saw the cards Hallmark sent me to connect with old friends. My sisters are the oldest friends I've got, even if it didn't always have eyes to see it. So, I'm putting together a series of "Just Because I Love You" mailings for two of my best friends.
Flipping through the samples, I see my sisters in these cards. I know whose getting the bling of bangles and who's getting the French guy, who's getting all the dogs and cats and who's getting the ice cream and cakes.
Fun fact: Sarah Jessica Parker designed some of these cards. I am old school, unfamiliar with her recent work, but I've always felt a kinship with her: the name Jessica and being a square peg. I get that.
I know that my sisters will love me if they don't get mail from me. I just want them to know I love them.
Who is YOUR oldest friend?
How do you keep in touch? Do you send fun mail just because?

Disclosure: I have been compensated for my time spent writing. I have also been sent free product samples. All opinions are my own.