How did you meet your husband?
We met in a trailer park in Carpinteria, CA. He had long hair and an earring and rode a Harley.
Ok, seriously. It was at a home group for our church that met in a very nice mobile home park. He did have long hair and an earring — but he drove a pickup.
Are you on Facebook?
Yes! And I've finally figured out how to update my fan page.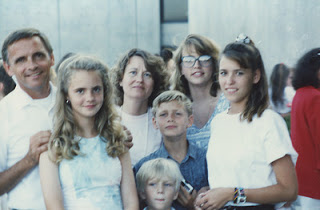 OK, I hope you don't think this is too personal a question, but I really want to know how old you are! From the pictures I've seen of you with your kids on the blog, you look really young- but you seem to have SO much experience! (Perhaps that comes from raising six kids!). So that's my question- how old are you? 🙂

Thank you. I am 37. I've always acted old for my age — in a geeky kind of way. In junior high and beyond, they said I dressed like a secretary. Truly. I'm embarrassed to say, that "school marm" was probably more accurate. Goofy sweaters, nylons, big earrings, brightly colored, rimmed glasses. Oh my! I'd like to claim the 80s as my only excuse.
That and the fact that my mother let me leave the house that way.
I also am quite adept at giving unsolicited advice, albeit good, reasonable, and intelligent — but entirely unasked for. It comes with being my father's daughter (Love you, Dad!) and the oldest of five children. I'm thankful my siblings still like me talk to me.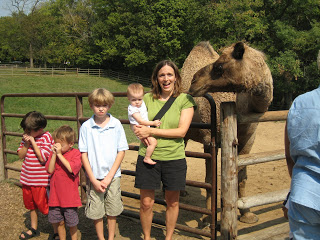 With six young children and home school, do you ever want to just run away for the day? Just you…alone! I only have three, and I wonder if I am odd for feeling that way once in a while.
For the longest time, I honestly did not feel this way. But, as our family got bigger, more and more masculine (remember four boys in succession) and louder, I found that a break was really nice, if only to clear the ringing in my head. At that time, my husband actually instituted Mom's Morning Out on Saturdays. I could do whatever I wanted as long as I was ready to report back to duty at lunchtime. For a long time this schedule worked well for our family.
Now, with bigger kids, lots of bikes, and mild weather, we like to go on family adventures on Saturdays, so I take off one night a week, either to meet up with a friend or work on my laptop somewhere with wi-fi. I'm finding that I really crave QUIET. So I compensate for all the noise by staying up late or getting up early. Earplugs might be a better solution as sleep would probably be a nice break.
I remember fighting the mentality, "A mom has to have time for herself," that others always preached at me when I was a young mom. I think that it just depends. Mom needs to do what will realistically help her be a better mom, catch her breath, and remember that she's not defined by motherhood alone. (I say "realistically," 'cause I think some ladies milk this a little too much.) But it can vary with the season. When we had just one little guy and my husband was home, I enjoyed doing what they did — or not. Different seasons call for different schedules. Talk it over with hubby and find out what works for your family at this time.
Don't feel bad about wanting a change in your routine. Oftentimes, just doing something different with the kids is a great "break." Last week the management company needed access to our house. So, to ensure that they had quiet, I took the kids to the beach.
Yes, me. Six kids. Alone. I lived to tell about it.
It was a great "break." We splashed in the waves, walked on the boardwalk, ate fish 'n' chips, and came home refreshed. I didn't have to leave my family, but leaving the same old, same old was helpful in achieving that "I had my break today" feeling. It may be that a break from responsibility would be good for you OR you just need a break from life in the cave.
Got a question? I'd love to hear it.