Frugal Christmas: Save Money by Staying Home
We are a participant in the Amazon Services LLC Associates Program, an affiliate advertising program designed to provide a means for us to earn fees by linking to Amazon.com and affiliated sites. We participate in other affiliate programs as well. For more details, please see our disclosure policy.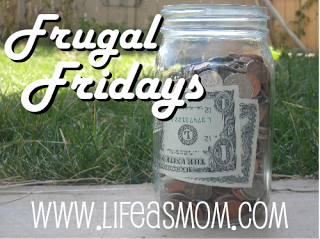 This month on Frugal Fridays, I've told you about Fun $10 Gifts, Budget Stocking Stuffers, and Savvy Shopping Ideas. In my last Frugal Friday of 2009, I present an earth-shattering way to save money:
Some may not understand what I mean. So, let me explain.
If you stay home and out of the stores once your shopping is done, you won't be swept away by the frenzy of your fellow shoppers. Frenzy is contagious and can lead you to think that you didn't do enough, you didn't buy enough, and you didn't spend enough to make your friends and family as happy as clams at Christmas. As Ma Ingalls says, "Enough is as good as a feast."
If you stay home and make your own gifts, you'll save a bucket load of cash. Handmade gifts or even food gifts can be just as special as some store-bought trinket, made in Taiwan.
If you stay home and cook your holiday meals, you won't be swept away by the "festive" restaurant atmosphere that tempts you to order more extravagantly than normal because, after all, "It is Christmas." A home-based cocktail party, tailgate get-together, or big holiday spread can appear just as luxurious at half the price — and it will probably be healthier than the restaurant or catered affair.
If you stay home and cozy up with your honey for a good movie, you'll save a fortune, eat just as good popcorn (just add lots of butter), and can press pause when you need a potty break or a smooch.
If you stay home and play games or decorate cookies with your kids instead of heading to the skating rink, movie theater, or amusement parks, you'll save money and make wonderful memories of home.
What do YOU do to save money at Christmastime? Or anytime, for that matter? Share it with us!
In the interest of exchanging good ideas, please do not post affiliate links, giveaways or deal posts. Instead tell us what you do to stretch your dollars a little farther. Share concepts and ideas that have helped you grow in saving money and being a better steward of your resources.
Write about your money saving tip on your blog and bring the permalink to that post here. If you find your link has been deleted from Mr. Linky, it is probably because you linked to your blog's home page instead of the post itself. If you need help, go here.
As a courtesy to me, your lovely hostess, please make sure that you link to www.LifeasMOM.com in your post.
If you don't have a blog, tell us your bright idea in the comments. Can't wait to learn some new tricks!
Reminder: This is the last Frugal Friday of 2009. Stay home next week and enjoy time with your peeps! FF will be back for New Years. Bring your Money Saving Resolutions for the New Year!