Frugal Cooking: Bread Busts The Budget
We are a participant in the Amazon Services LLC Associates Program, an affiliate advertising program designed to provide a means for us to earn fees by linking to Amazon.com and affiliated sites. We participate in other affiliate programs as well. For more details, please see our disclosure policy.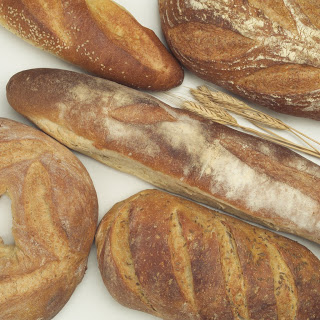 If you haven't noticed, bread is expensive. Especially if you want to feed your family whole grains. This past winter I fell into the habit of buying really yummy, gourmet breads at Costco. Everything from bagels, baguettes, English muffins, delicious San Francisco style sourdough (just like back home) and regular whole grain sandwich bread. Well, it was adding up to be about $16 a week! Yikes!
And then I got on the bandwagon to bake for awhile. I had gotten out of the habit since last summer when my bread machine broke. Yes, I used it so much the paddle fell off the pan and, of course, mine was a model for which you could not buy a replacement pan. I do have a handy-dandy KitchenAid Stand Mixer, but it takes more brain power than I have on a usual day. The bread machine was just so easy. (And I had the best bread machine cookbook!) But, late winter I started experimenting and made baguettes and bagels myself. See?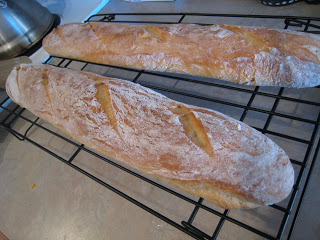 I made those! So, I know it can be done. For cheap.
Unfortunately, I have become really lazy when it comes to bread baking. And so the last few months I've just bought cheap bread….bread that makes me feel guilty because there's who-knows-what in it. And even at two bucks a loaf, it really isn't "cheap" bread.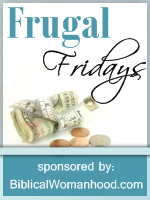 So, my goal for the next month is to try to bake bread once a week. It probably won't be as good as what I could make in a bread machine, but I'm going to try. At 3 loaves a week (when we are conservative in our bread eating), I think I can save a few bucks. And every little dollar counts!
Got a great, EASY bread recipe for me to try? Post it or a link in the comments, please!
For more frugal tips, check out Crystal's blog every Friday.