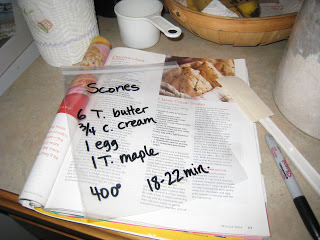 I love to cook and bake from scratch. It tastes so much better than store bought baked goods or mixes. And I think it's healthier, usually. But the convenience of a mix is hard to beat. On the flip side, however, mixes generally cost a lot more that the bare ingredients.
I get the best of both worlds when I make my own mixes. I label several quart-size freezer bags with the name of the mix, the wet ingredients that need to be added, and the baking instructions. Then I line up several bags open on the counter and, assembly line-style, measure in the dry ingredients. I do this for pancakes, waffles, scones, muffins, and corn bread. Then I store the filled bags in the freezer so that everything stays real fresh. When I'm ready to bake I just pull out the bag, dump it into a bowl, add the wet ingredients and bake away. This is also great to do for a camping trip.
For more frugal tips, visit Crystal's blog every Friday.