Frugal Father's Day Traditions
We are a participant in the Amazon Services LLC Associates Program, an affiliate advertising program designed to provide a means for us to earn fees by linking to Amazon.com and affiliated sites. We participate in other affiliate programs as well. For more details, please see our disclosure policy.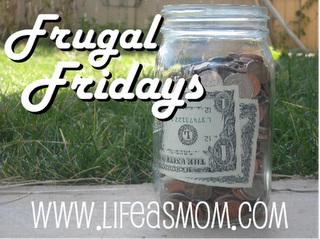 The following is a guest post from Jen of Balancing Beauty and Bedlam:
With Father's Day right around the corner, many of us are scrambling to find that perfectgift to show Dad just how extra special he is in our lives. Yet often, Dad's desire is just to spend relaxing and meaningful time with the family. In our rush and worry to find something perfect, we neglect to realize that often it's the simple things done for Dad to encourage and honor him, that are really the BIG things.
Now, don't get me wrong, a new grill for that backyard barbecue is a great way tocelebrate Father's Day, but with finances on everyone's mind this year, let's make th eday truly memorable for Dad. Take your imagination to the next level by incorporating some meaningful, new tradition ideas.
Here are just a few that may inspire you to try something a little different this year:
Picture Day: Start simple by beginning a Father's Day album this year. Don't worry about filling it in with any other photos, this is a low pressure solution to creating some memories. Just include photos from this special day in a small album. Make sure to take one picture of the children holding a "Happy Father's Day" sign with the date, so that every year when you look through it, you can marvel at how big the kids have gotten. In a few years, looking through this album together will be a highlight of Dad's Day.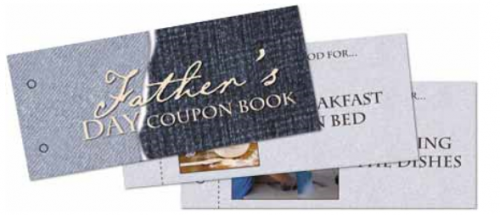 Father's Day Coupon Book: Whether redeemable for a car wash, breakfast in bed or a day set aside to treat dad like a king, coupons make memorable gifts that allow Dad to savor the day long after the holiday has passed.
King for the Day: The dads in our life deserve no less than the Royal Treatment. Start with his favorite place to relax: the hammock, lawn chair, or recliner and build his throne. Equip it with everything he needs to feel like he is truly the King of the Day. Go here for more royal ideas on this tradition idea. Remember, this works perfectly as a gift for birthdays as well.
Hopefully, this has sparked your creative side and given you simple ideas to make this Father's Day extra special. Celebrating Dad with quality time, acts of service, and encouraging words will mean more to him than any new tie.
— Jen is the frugal family manager of five blessings, in passionate pursuit of balancing it all – the good, bad and ugly. Jen loves showcasing her frugal fashionista finds, trash to treasure jewels and a plethora of meal planning/family ideas. Visit Balancing Beauty and Bedlam for monthly memory-making ideas.