You've probably read the book, If You Give a Moose a Muffin or its predecessor, If You Give a Mouse a Cookie. If so, you'll love the poem, "If You Give a Mom a Muffin." It tells the tale of how a mother can get (way too easily) sidetracked in her life as mom. It's told with humor and realism. If you haven't read it, I recommend that you do. And then, make up some muffin kits for the moms in your life.
'Cause if you give a mom a muffin kit, the whole family can enjoy them!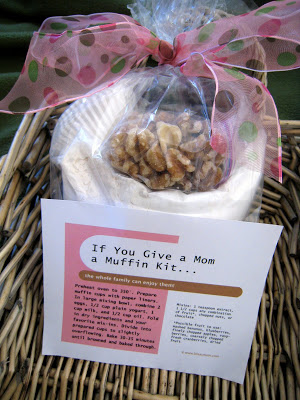 I love to eat and I love to cook. And as a result, I love to give my friends gifts of food. But years ago I realized that with all the goodie giving, my friends were so inundated with baked goods — from me and from others — that they couldn't possibly enjoy them all before these goodies went stale. That's when I clued it that giving a custom-mix was just as good, if not better than a batch of baked muffins.
Since I make my own muffin, scone, and pancake mixes, packaging a mix as a gift just takes a few special touches, like in the case of this muffin kit. In a clear plastic treat bag, I placed a bag of muffin mix from this recipe, some fun mix-ins and a package of muffin papers. Customize the mix-ins and muffin papers to suit the tastes of your friend. There are some amazing muffin papers out there.
Frugal Yet Fun Foodie Gift
As is, I estimate that a gift like this costs no more than $2 or $3. Cute, fun, economical. You could easily take it up a few notches by throwing in a muffin pan, a bread basket, and a copy of If You Give a Moose a Muffin. At most, you're spending an extra $20-30 for a great family gift that will last well past the holidays.
However you package it, don't forget to include baking instructions!
To make it even easier, buy my $1 Download of Muffin Printables. This pdf file includes instructions on how to make a muffin kit, the muffin recipe, and two card designs to print. One set of cards is expressly for moms while the other set is for anyone.
Do you ever make food gifts? If so, you're going to want to visit this week's Holiday Food Fest starting tomorrow over at Cents to Get Debt Free. Phoebe is hosting a roundup of great food presents that you can make easily and affordably.